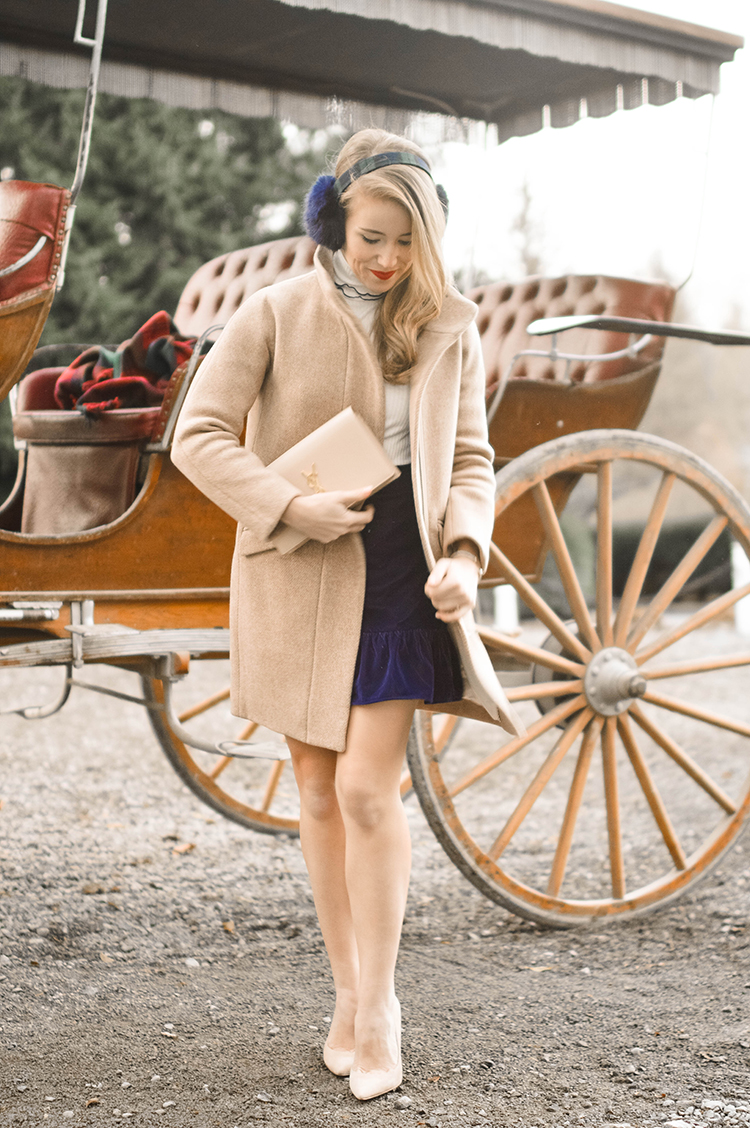 EARMUFFS   blackwatch plaid earmuffs   |   COAT   j.crew cocoon coat   |   SKIRT   velvet peplum skirt (wearing size 0)   |   TOP   ribbed turtleneck   |   SHOES   suede heels   |   CLUTCH   ysl clutch   |   BRACELET . david yurman bracelet
If there's one thing the Greenbrier Resort has down to a tee, it's Christmas cheer! Over the course of our stay, my friends and I sang carols, watched the grand tree lighting, cozied up by the fire and my very favorite winter activity… took a carriage ride through the beautiful grounds! While we weren't exactly dashing through the snow (we were a bit too early for that) it was oh-so-merry all the same.
Since I rarely get the chance to pull out winter accessories in Dallas, I used this opportunity to bring along a few fun accessories. You guessed it… these blackwatch plaid earmuffs definitely made the cut! Paired with a navy velvet skirt and a cute turtleneck (and a huge, cozy blanket) I was perfectly bundled up for the outing.
Speaking of bundling up… my mama and I arrived in NYC last night for our annual girls trip, and it's supposed to be in the 20s today in New York. I'm sorry… what?! I don't think I've ever experienced anything that cold before, so send some good luck our way! :) We started off the trip with pizza at our favorite spot and a trip to Broadway to see Anastasia. Every second was absolutely magical! 
Love from NYC,
Kate