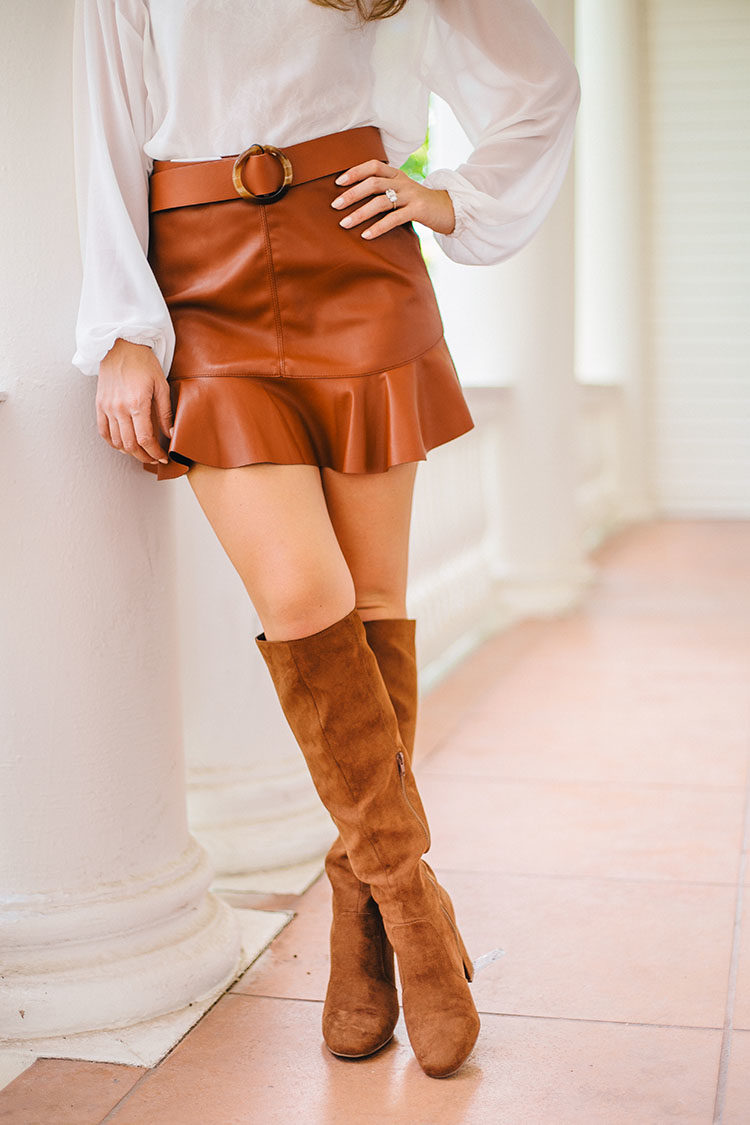 SKIRT   bb dakota veni vidi vici vegan leather miniskirt (available in more sizes here, also in black)   |   SHIRT   lace-lined chiffon bodysuit ($19, also in black)   |   BOOTS   faux suede heeled boots (also worn here, here, here and here)   |   BELT   wide tan belt   |   EARRINGS   gold hoop earrings
Let's just all have a moment of honesty. Has the concept of a "bodysuit" ever freaked anyone else out? I'm not sure what it is… but ever since they came onto the scene a couple seasons ago, they've just… intimidated me. (I think it's because they remind me of my purple leopard sequined leotard gymnastics days. Anyone else?!)
I get their practicality, and I've certainly loved outfits they're a part of, but until this past week, I wasn't sure I could ever pull one off.
Friends, meet the piece that changed all that… this $19 lace-lined chiffon bodysuit! At first glance, I didn't realize it was a bodysuit. The modest neckline and beautiful blousy sleeves aren't really what I've come to expect with those! Know what I mean? But with the gorgeous details and the under $20 price tag, I decided to give it a shot.
I'm so happy I did, because it's now become one of my favorite pieces to style with high-waisted skirts and jeans. I love that because it's a bodysuit, I don't have to worry about finding an undershirt to wear with it… the lovely lace one is sewn right in!
Let's just say this came as a happy surprise to me. Who knows what "crazy" trend I'll try out next! ;)
Love from Texas,
Kate