Yo listen up, here's the story…
Don't think for a second that I didn't come thiiiis close to rewriting the whole song to fit today's post. Because I most assuredly did. But when it comes down to it, this story is nothing new…Kate falling in love with yet another #offtheshoulder top. Sigh. When will the madness end?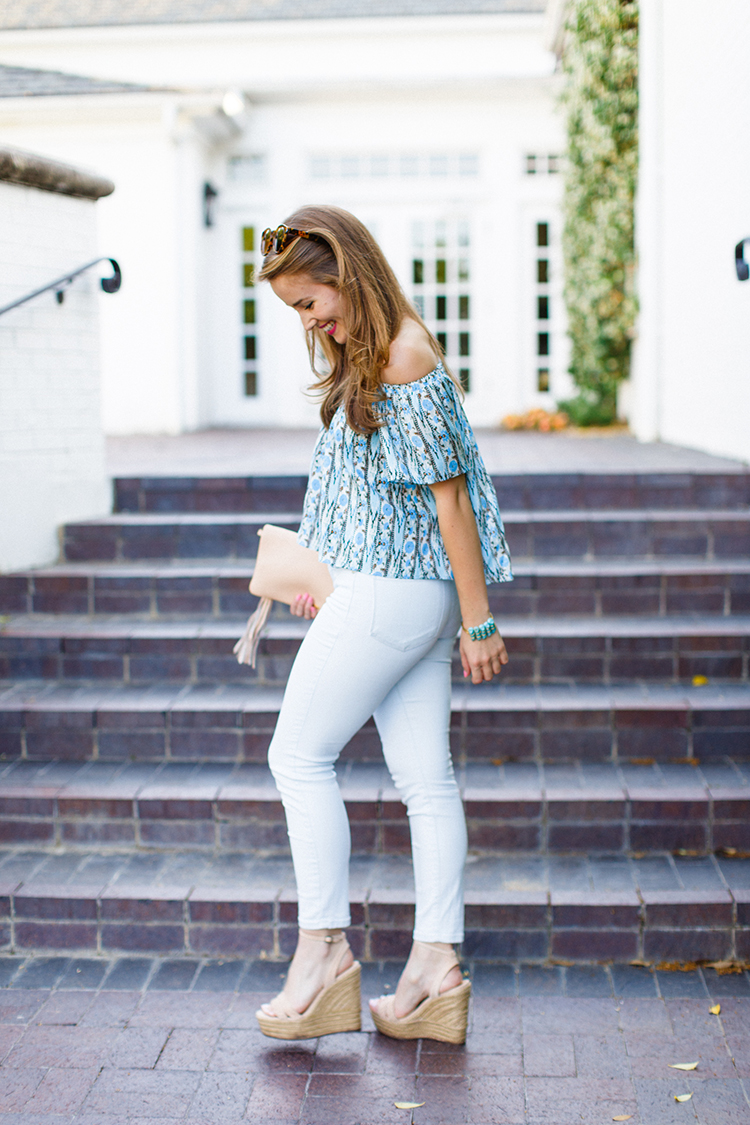 TOP   blue off the shoulder top   |   JEANS   pale blue jeans (55% off in petite, 33% off in regular)   |   CLUTCH   gigi tassel clutch   |   EARRINGS   kendra scott lauren earrings in crushed ivory pearl   |   BRACELET   turquoise bracelet   |   LIP COLOR   schiap lipstick + angelika gloss
As I mentioned a few posts ago, off the shoulder is around every corner these days and I love it. Back before they became a mainstream trend, us University of Texas girls would drive to San Antonio to buy Mexican off the shoulder blouses at the market. Does that make us hipster? Yes, it does. Ahead of the curve, people.  (You can still see mine, worn on the shoulder, here!)
We have options this spring and summer, though, and that is only ever a good thing! A few reasons I picked up this beauty in particular? First off, the cut. I loved the blousy, flowy feel. The dipped hem at the back that adds an element of cool chicness to the top! And the colors and print are so lovely in person… flattering on any skin tone, and picture perfect for spring.
There are so many ways to wear it… denim or white cutoffs with sandals, white bell bottoms and platform wedges, black skinny jeans and heels for a night out or pale blue jeans like the ones I have on here! (Which are on mega sale right now. I'm in a Petite 00!) This pair of pale, blue jeans has been such an asset to my wardrobe. They're perfect for pairing with white blouses (when dark denim looks too fallish) and are subtle enough to work with color as well. Hence, the blue on blue! I couldn't resist.
And quick shoutout in the accessories department… these are hands down my favorite wedge of the season. The color and style is incredibly elongating, and they truly go with everything. Way comfortable, too! I always wear them with my Gigi tassel clutch. (That also conveniently turns into a cross body! The. Best.) Last but not least, I am in love with these earrings from the new Kendra Scott summer collection! They would make a perfect Mother's Day present as well. Don't forget, it's this Sunday! (Reminder to myself…)
P.S. Y'all… SALE ALERT!
Shopbop is offering up to 40% off on select styles, no code needed! These Tory Burch flats are 30% off along with a ton of other great summer steals. Shop it here!
Love from Texas,
Kate
Photography by Stephanie Drenka