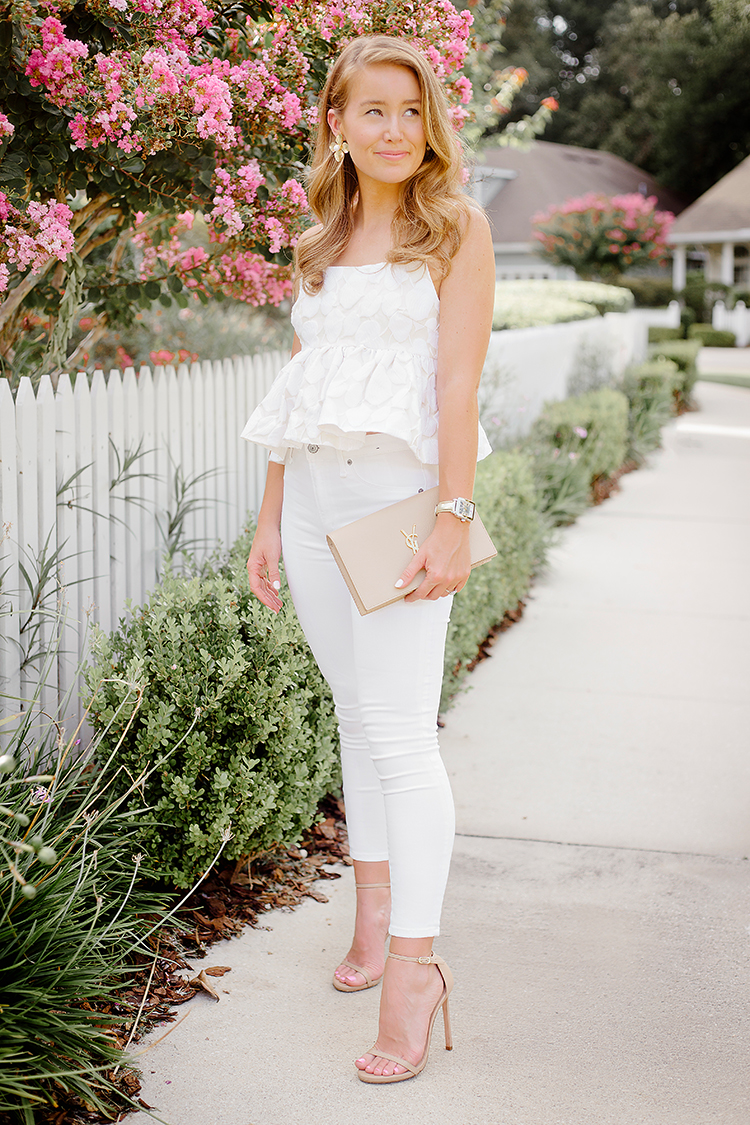 TOP applique peplum top (wearing size XS, also here and here) | JEANS abercrombie white skinny jeans (wearing 25 short) | WATCH michele deco watch | CLUTCH ysl clutch (old, similar linked) | SHOES stuart weitzman nudist heels (similar color linked) | EARRINGS liza yates gold floral pearl earrings
This probably isn't the first time you've seen this darling applique peplum top here on Lonestar Southern. I've had my eye on it since May, when I included it in this post, and have been waiting for it to go on sale in my size ever since.
After a series of out-of-stocks and restocks, I finally managed to snatch it up for under $50. Turns out, the wait was well worth it! The fabric is beautiful, and gives the top a far more expensive vibe than it is.
While sizes are limited and this blouse continues to sell out quickly, I recommend you keep checking on it if it's a piece you're wanting to add to your closet. That's the strategy I employed, and after a big of waiting, it worked for me!
After a bit of digging, I found that it's from a new-to-me line called Samsoe Samsoe, a European brand that embodies classic, simple silhouettes that look as if they were created to be worn all around Paris. While I don't think they ship to the US as of now, I did find that the line is carried here in the states at Nordstrom and Intermix. I can't wait to keep my eye on this brand in the future!
In the meantime, I rounded up a few other peplum styles that are reminiscent of this fun blouse. Take a peek below!

Love from the Sunshine State,
Kate