Safe to say, I've never really been one for graphic tees. I tend to gravitate more towards classic cuts, colors and patterns, and have found it difficult to scout out those same influences in such a trendy style. The good ole "shopping is my cardio" and "kale" tops got a laugh out of me at first, but never felt "me" enough to justify a purchase. Know what I mean?
But then I came across a very happy exception to the rule… this "good vibes" tee, and immediately I fell in love! What changed my mind? The simplicity. A plain white tee with black block letters? Good, clean perfection. Nothing sassy, strange or off-putting about the saying either. An advertisement for kindness, happiness and calmness seemed like something I'd be happy to walk around in! The fact that it put a smile on my face the second I put it on was the cherry on top, and made the decision to bring it home an easy one.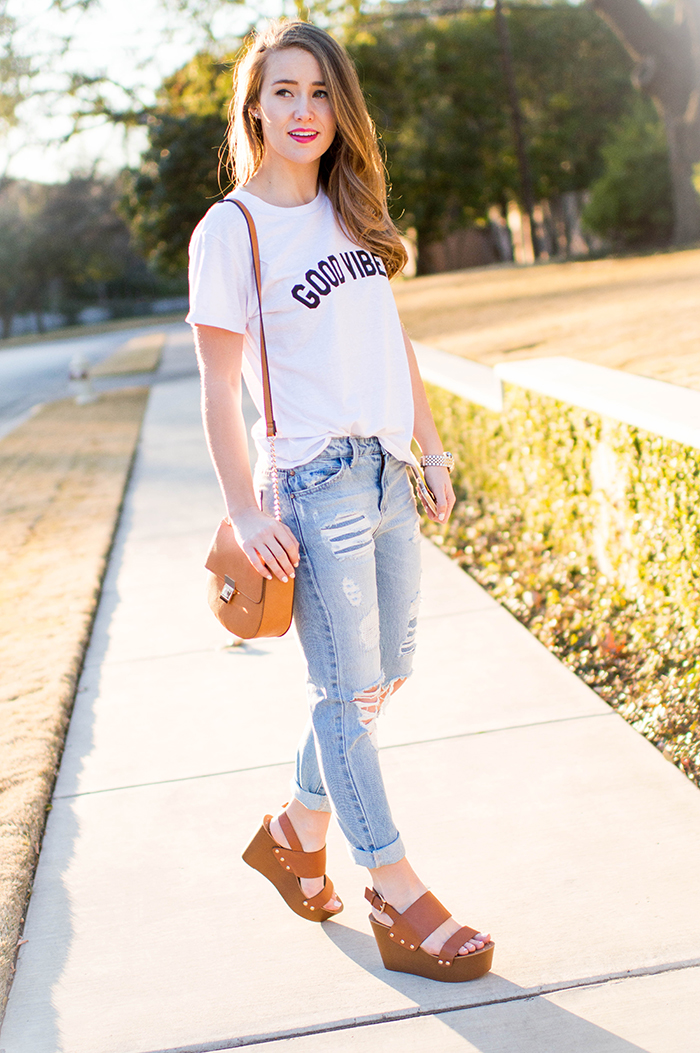 TEE   good vibes tee (wearing an XS)   |   JEANS   destroyed boyfriend jeans (go up one size)   |   BAG   chloe cross body look alike (under $40)   |   SHOES   strap wedges (under $40 too!)   |   PHONE CASE   clear speck case (just purchased, and love!)   |   SUNGLASSES   rose gold mirrored sunglasses ($12!)   |   WATCH   michael kors watch   |   EARRINGS   pearl studs
I decided to go all-out and embrace the chill factor of a simple white tee, pairing it with a really fun pair of destroyed boyfriend jeans! Another style that isn't my typical go-to, but one I'm growing to love. It took a little to get used to the fit (I'm so used to my mid-rise, J.Crew skinnies) and to get over my dad saying "Hey Kate! You ripped your pants!" every time he saw me in them (FUNNY DAD) but now they've become one of my favorite pairs! I was getting sick of the same-old jeans look, and these have definitely breathed fresh air into my wardrobe.
The final piece of this ensemble I want to draw attention to is the Chloe look-alike crossbody I'm carrying! If you've seen (and fallen in love with) the Chloe 'Drew' crossbody like me, you'll flip learning that the dupe I'm carrying looks exactly like the real deal, but is under $40! Must have for spring, in my opinion!
So friends, I thought I'd bring this casual, happy and super chill look to you this Monday. Here's to hoping it sets the tone for our week ahead!
Love from Texas,
Kate