Have you ever tried something on expecting it to look horrible, only to be pleasantly surprised? This fringe maxi vest was something I'd typically walk straight by… the length alone was enough to keep me moving! As someone that's 5'2″, it seems as if I'm always after "a little bit shorter." A couple extra inches along the hem is all it takes for a piece to totally overwhelm me! But every once in a while, I have a moment and go way out of my comfort zone.
Slow clap for whatever whim caused me to take the thing to the dressing room with me, because it's now one of my favorite pieces!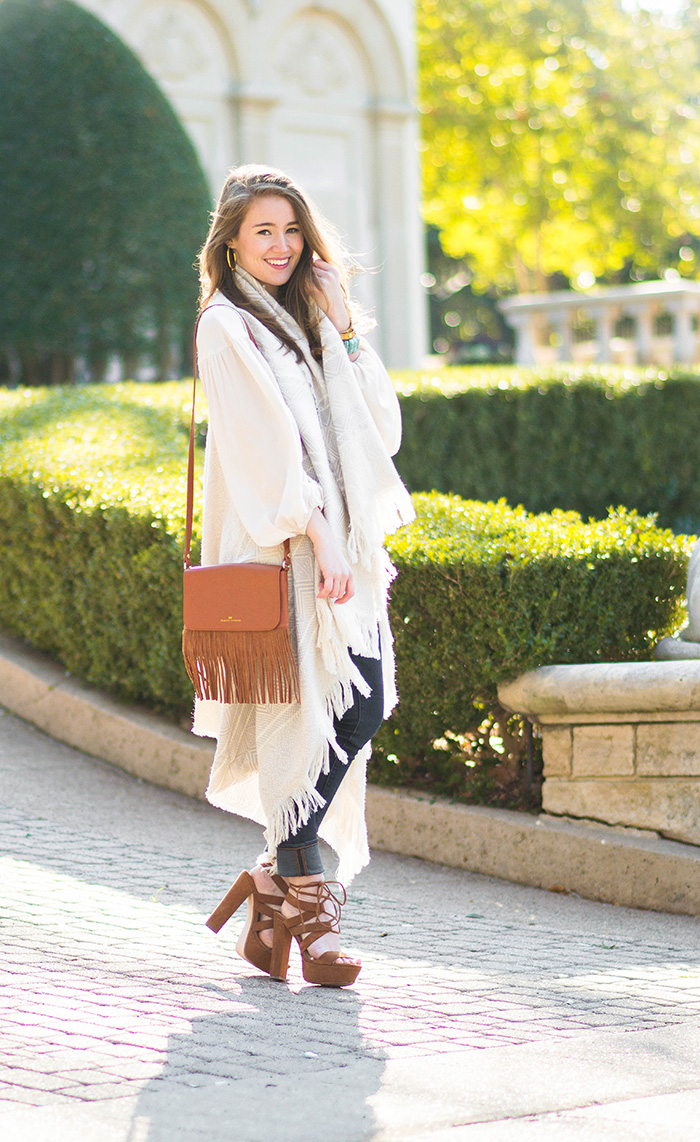 VEST   fringe maxi vest (currently 50% off!)   |   SHOES   lace up platforms (sold out Steve Madden, similar linked)   |   PURSE   fringe crossbody c/o (similar, less expensive here)   |   TOP   peasant blouse (old H&M, similar linked)   |   EARRINGS   julie voss hoops (size XL)   |   BRACELET   turquoise bracelet c/o   |   BRACELET   gold wrap bracelet   |   JEANS   j.crew toothpick jeans
During these colder months, I'm always looking for fresh, unique and fun ways to keep bundling up from getting boring. We all know classic cuts are my go-to, but taking a step on the "trendy side" definitely has it's benefits! To play up the elegant, southwestern vibe of the vest, I paired it with a peasant top, 70's-inspired platforms and a fringe bag. Gold and turquoise touches rounded the look out, adding an appropriate "pop" to an otherwise neutral ensemble.
I really can't recommend a maxi vest enough… words I never thought I'd say! They are effortlessly elegant, and if you don't believe me I dare you to try on the next one you see! This one is currently 50% OFF, and will be your favorite thing for months to come. Let me know what you think of this fresh, fun look!
Love from Texas,
Kate
P.S. I came down with a horrible cold yesterday, which is definitely throwing me off since I hardly ever get sick! I'm trying to rest up as much as possible for tomorrow's trip to New Orleans. I'm so excited, and am overdoing it on Emergen-C just to be safe!