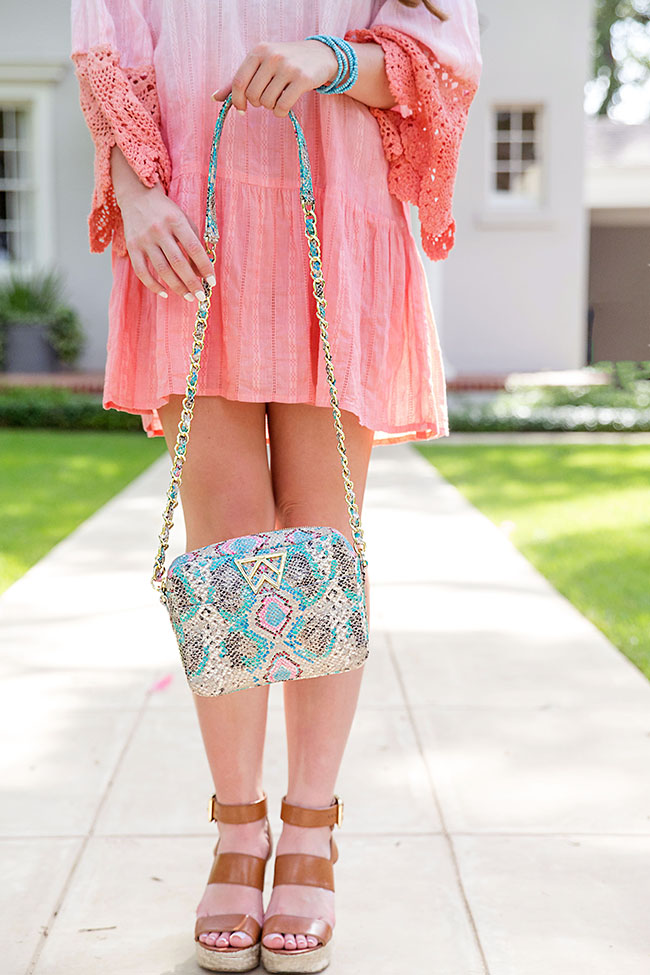 DRESS The Happy Goose Shop Ombre Dreamer Dress (similar here)   |   PURSE   Kelly Wynne Mingle Mingle Mini    |   EARRINGS   'A Lonestar State of Southern' TAudrey Earrings   |(also available in a darling wristlet)   SHOES   Michael Kors Posey Wedges   (40% off! available in black here)   |   BRACELET Turquoise Beaded Bracelet (old, similar linked)   |   LIPSTICK 'Mod Pink'   |   LIPGLOSS 'Bare Pink'
Surprise, surprise… here Kate goes again naming her outfit outfit after food. But the summery hues of this one completely justify it, right? My favorite summertime treat is hands down rainbow sherbet, and for some reason that's the one thing I think of when seeing these bright corals, pinks and turquoises all together. This perfect ombre frock from The Happy Goose Shop (one of my favorite online boutiques!) and my crazy perfect multi-colored Kelly Wynne Mingle are just as sweet, with fewer calories than a couple scoops to boot!
I also am so excited to be wearing the 'A Lonestar State of Southern' earrings that I helped design for TAudrey Jewelry! After hunting for the perfect turquoise statement earring (unsuccessfully) for ages, I was finally able to create my dream pair and could not be more in love! The elongated hoop is super flattering on every face shape, and the turquoise hue adds the prettiest pop to any outfit. You need this pair in your summer accessory arsenal, I can hardly take them off!
Last but not least, I had to give you a heads up about the HUGE Nordstrom Half Yearly Sale going on! Hundreds of items are marked down up to 50% off, including the wedges I'm wearing in this post! You can also grab this pair that I wear all the time in gold for a huge discount. I'd hurry to grab your favorites, because things are selling out quick! (I've been needing a new pair of gladiator sandals, so am giddy to pull the trigger on these Tory beauties.)
Finally, I wanted to take a second to thank you all for being patient with my lack of posts over the past two weeks. I graduate from the greatest college in the world on Saturday, so I've been making a big effort to be as present as possible during the last few weeks I have with the incredible friends I've made here. We've been soaking up these last few days with plenty of fun dinners, shopping excursions, laying out (when the weather has allowed it), and even a fun barge on the lake! Next week, you can expect to see a lot more around here, and will definitely want to check in for an exciting announcement I have coming up. Love you all so much!

Photo Credit   |   Hilary Rattikin Photography
Love from Texas,
Kate