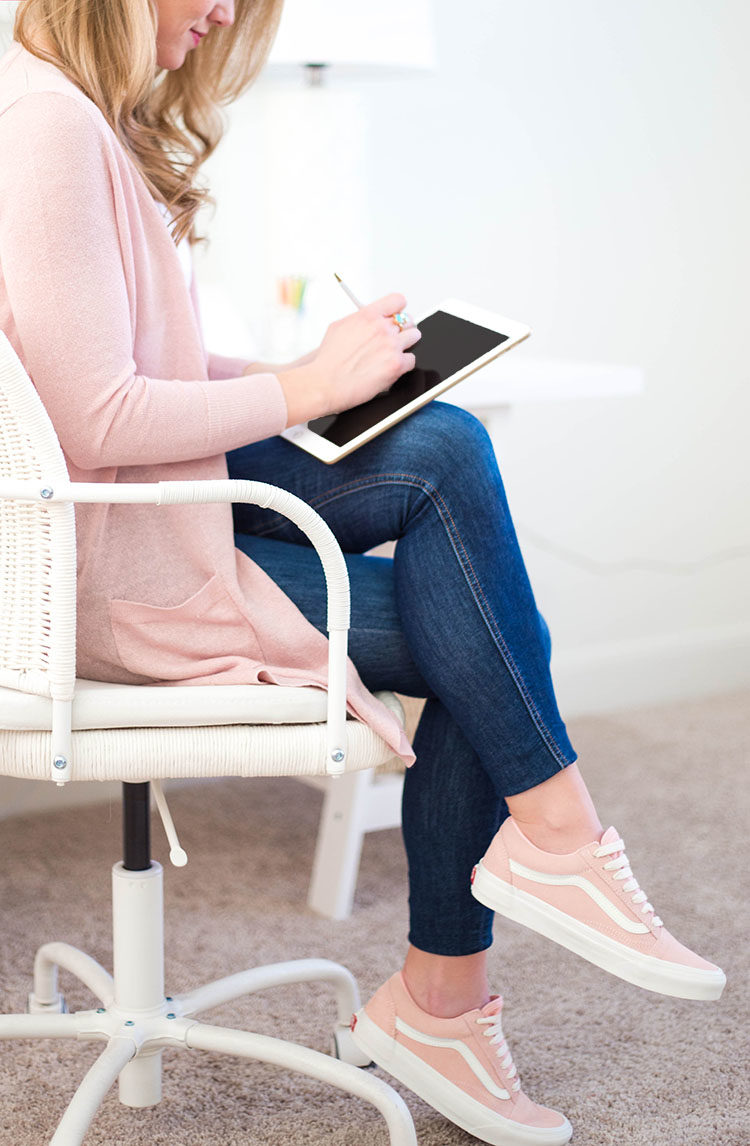 SWEATER   pale pink cardigan   |   SHOES   pink vans   |   JEANS   rag & bone jeans   |   TOP   white tank top (from small boutique, exact similar linked)   |   EARRINGS   pearl studs   |   STYLUS   stylus pen
Funnily enough, one of the questions I get asked most frequently these days is… "How do you have pretty handwriting on your Instagram stories?"
I was definitely not the "it girl" in 8th grade who had that perfectly swirly, coveted handwriting (obviously I'm not over that) so the fact that so many people have taken an interest in it has me incredibly flattered!
Today I'm thrilled to share the trick with you, and you may be surprised to find that it's as easy as clicking "add to cart."
If you're looking for a way to finally get pretty handwriting on Instagram Story, let me introduce you to your new best friend, the stylus! This little tool allows you to write just like you would with a pen on your phone or tablet screen.
When it comes to creating Instagram Stories or Snap Chats, feeling like you're finger painting is just about the most frustrating thing ever. This little thing fixes that instantly! That's why I'd recommend these stylus pens to any blogger or social-media conscious soul out there. They've changed my life!
There are certainly nicer, more expensive styluses on the market, but this eight dollar pack (for a set of ten) is all I've ever used and I don't plan on switching anytime soon.
So now that the secret's out, order away! You'll be shocked at how quickly your Instagram Story game improves with this one little hack. You can get your set here!
Love from Texas,
Kate
P.S. For those of you looking for my weekly recap, I have it posted HERE! Be sure you're subscribed to my channel so you never miss a post when I don't feature it on the blog. Click here to whatch my latest video.