This season, I'm especially enraptured by kate spade new york's fall campaign, "star of your own show." What a fun, empowering image, being the leading lady of your own show. To me, it's one that inspires a mixture of drama, confidence and playfulness all at once. To me, being the star of your own show means being completely and unabashedly yourself, and taking total joy in the expression of you!
I've always been one to opt for the colorful over the all-black ensemble, the smile over the pout, and the lighthearted over the too-cool attitude. As I've continued to spend a great deal of time and energy in the fashion blogging realm, I have found so much freedom in that one little phrase… being the star of my own show. It may not be the blogging norm to be quite as rambunctious or colorful, but blending those traits into my work is where I find the joy and fun of it all. That, friends, is something worth holding onto!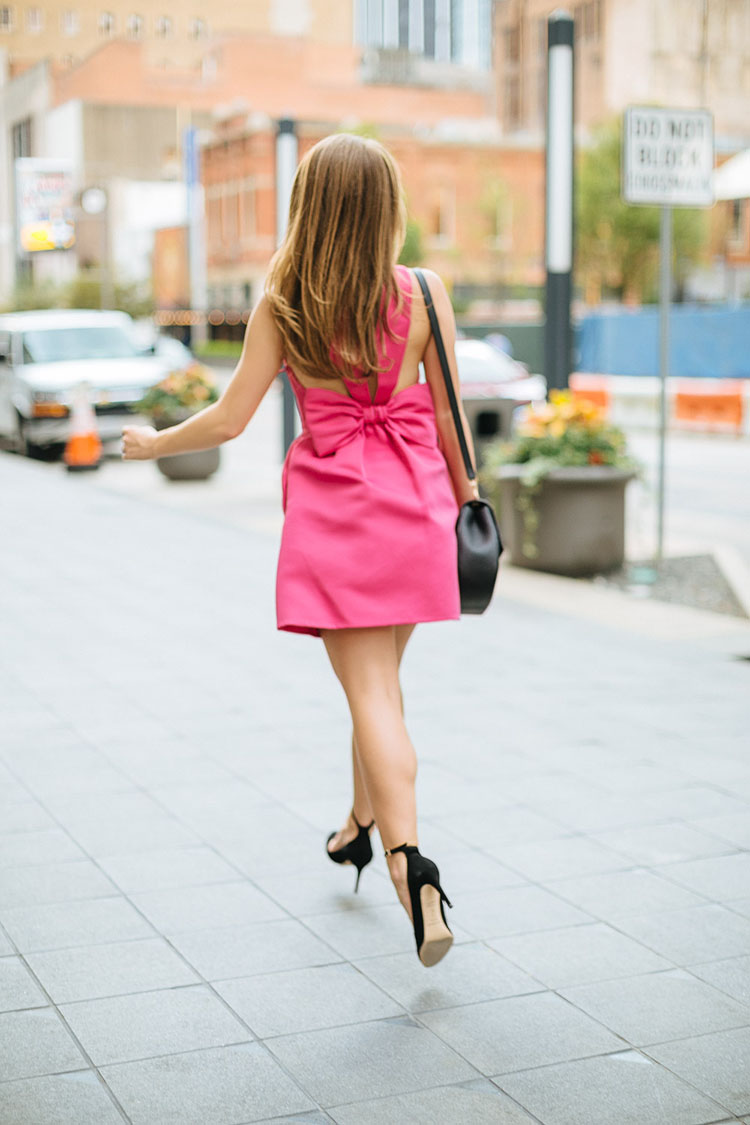 DRESS   pink bow dress   c/o   |   SHOES   black ankle strap pumps   c/o   |   BAG   cameron street byrdie bag   c/o   |   COAT   black jewel button coat   c/o   |   EARRINGS   pearl drop earrings   c/o
I love how each piece in the kate spade new york fall line weaves in a special little something that makes leaving your mark and staring in your own show possible – whether it be jeweled buttons on a chic black coat or a picture-perfect bow on the back of a pink dress. (Let's pause a moment to reflect on this dress y'all… if I had to imagine my dream party dress, this would be it!) Unique, larger-than-life details like these make my heart sing!
I am 100% convinced it is not just a "fashion blogging" battle, being the star of your own show. Doesn't day-to-day life seem to place certain expectations on us? Not, by any means, that all of them are bad… I just often find that they have a way of dulling our uniqueness from time-to-time.
So here's my encouragement to you today, one that I'm so excited to link arms with kate spade new york in doing… be the star of your own show! It can be as small as throwing on a bright pink dress and smiling down the streets of the city when everyone else seems to be dressed in neutrals and glued to their phones, or as grand a gesture as you could dream up. But take a moment, or a few, to embrace your self and your own beauty, and be the leading lady of your own show!
Take it from me, it's much more fun that way.
Love from Texas,
Kate
Thank you, kate spade new york, for sponsoring this post.
Photography by Dallastyle