Today is a big day, y'all. Not only are Andrew and I hitting the road and moving to Gainesville, Florida (sunshine state, here we come!), but a project I have been so excited about is finally LIVE!
Without further ado, let me introduce you to the Lisi Lerch Lonestar Southern Bridal Collection!
I have been a Lisi Lerch fan for years now, falling early on for the bold yet classic, colorful and sophisticated pieces this line is known for. Needless to say, when they reached out to gage my interest in designing a pair of earrings for my bridesmaids to wear, I couldn't contain my excitement!
Inspired by the well-known Lisi Lerch silhouette, I set out to design a pair of earrings that would make a timeless, tasteful statement for my twelve bridesmaids. I had a few different ideas, and as I began to sketch them out on paper… I realized a whole collection was coming to life!
Whether worn as a bride-to-be, a bridesmaid, a wedding guest or simply an accessory aficionado, my hope is that each style translates the joy, beauty, and femininity every bride embodies on her wedding day into a gorgeous accessory fit for any and every special occasion!
Now, let's get to the photos. I've got so many more details below!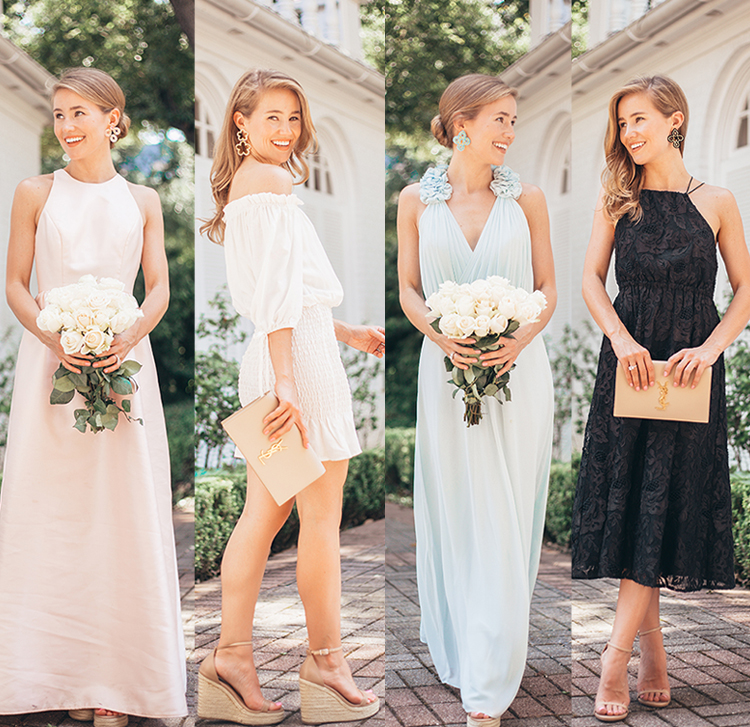 If you'll allow me, I'd love to walk you through each design! Each was named after a special woman in my life.
The Martha

Named after my sweet maternal grandmother, I designed The Martha specifically for my bridesmaids. My grandmother suffers from Alzheimer's and since she couldn't join us, I loved being able to name these special earrings in honor of her.
My girls wore them in the color "Czech White" for a crisp, clean accent to their lovely pink dresses. The style looked utterly fabulous on each girl. I couldn't stop smiling when I saw them all wearing them with their dresses!
photography by John Cain Photography
The Mimi

"Mimi" is what we call my cute grandmother Martha, and it felt like the perfect name for this next style. I like to think of The Mimi as The Martha with an extra special touch, a beautiful stone at the top of the earring.
I especially love the larger pearl that graces the top of the earring in Czech White and Pearl. Such a fun, classic touch for you pearl-lovin' ladies!
The Mahaffey

Wanting to create something a bit more striking, I designed The Mahaffey for the bride looking for a bit more of a statement! Let me tell you, I can't stop wearing them.
Mahaffey, pronounced "mah-haf-ee," is the maiden name of my paternal grandmother. She passed away before I was born, but I have grown up hearing about her marvelous, elegant fashion sense and felt like this was all too fitting for her.
The Madeley

While designing this collection, I couldn't get over the gorgeous stone accent of The Mimi and found it to be just as striking with this style, The Madeley.
Madeley, pronounced "maid-l-ee", was my middle name before I married Andrew, and is also the first name of my cousin! I have always loved it and was so sad to part with it, which is why I'm having it "live on" with this earring.
This style is extra special to me, as I wore it for my rehearsal dinner! The pearl accents were a stunning compliment to my white dress, which had pearls lining the back. I can't wait to share more photos soon!
photography by John Cain Photography
The Janie

Last but not least, I'm thrilled to share the final style of my Lonestar Southern Bridal Collection… The Janie. As many of you can probably guess, this earring was named after my wonderful mother!
I was inspired by all the beautiful floral we dreamed up during the wedding planning process in creating this fun drop earring, and love that it can be styled "up or down." My sister actually wore it to the rehearsal dinner in the color Czech White! It's a lightweight, versatile style I am absolutely smitten with.
photography by John Cain Photography
I have to say, seeing and wearing these beautiful pieces after a few months of rough sketches drawn on the back of my planner, emails and samples is a true dream come true. It is such a treat getting to share these pieces with you, and I hope you enjoy wearing them every bit as much as I enjoyed incorporating them into this special season in my life!
You can view the entire Lonestar Southern Bridal Collection here!
I'm also delighted to share with you that Lisi Lerch always offers a discount of 20% to wedding parties of 5+. Simply email [email protected] to place your special order!
Now, friends, I'm signing off to hit the road! Andrew and I are sad to leave Dallas, a city so near and dear to our hearts for so many reasons, but we are thrilled for the adventure ahead and can't wait to see what the Lord has in store for us in Gainesville, Florida!
So, for the last time (for now at least)… I'm signing off as:
Love from Texas,
Kate