If there's one item I'm guilty of over-buying during autumn, it's anything and everything that falls into the category of cape, scarf, wrap or poncho. Since there are seemingly hundreds available at really great prices this year, they make for an easy, affordable means of switching up and adding new dimensions to the perpetual blouse + jeans + boots rut… one I fall into all too often.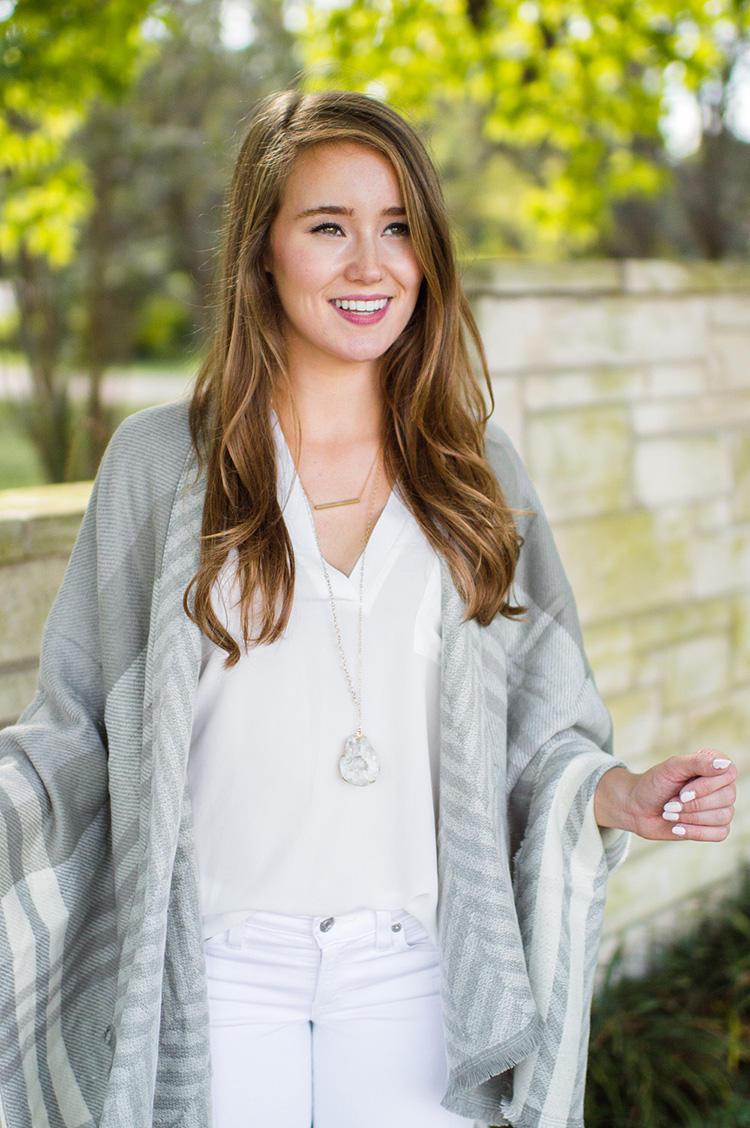 CAPE   grey plaid cape   |   BLOUSE   white tunic   |   JEANS   white toothpick jeans   |   BOOTS   grey suede boots   |   NECLACE   crystal pendant necklace   |   NECKLACE   gold bar necklace   |   LIP COLOR   benetint
With this outfit in particular, we have bad news and we have good news. Shall we go ahead and get the bad news over with? This darling grey paid cape (with the cutest chevron interior) has already sold out! Boo, hiss, ugh, you get the picture.
But the GOOD news is that this outfit layout looks gorgeous with any wrap! Setting an all-white base with white jeans and a white blouse brings a much-needed fresh of breath air to the bundling up process. It's one you can build on top of with any amount of accessories in any array of colors!
I often get questions asking if wearing white jeans after Labor Day is ok… along with the occasional "What on earth are you doing, white jeans after Labor Day is definitely NOT ok" comment. Y'all, quite the contrary! I've found white jeans are such an asset in the cold winter months. Take this outfit for example. While it would still look so cute with dark jeans, the all white paired with pops of grey creates an incredibly chic  ensemble that blends together perfectly.
If the only thing holding you back from wearing white jeans in winter is that age-old rule, I say ditch it and strut on with yo bad self! I promise, a whole new world of winter dressing opens up when you do!
What. A. Weekend. I had the chance to visit my sister in College Station, explore the town of Roundtop, Texas, and host a meet and greet at the Lilly Pulitzer at Northpark Mall! It was such a busy, fun-packed weekend that I hardly had time to catch my breath, which I'm incredibly grateful for. Now, I'm looking forward to getting back into the rhythm of things this Monday! I'll be kicking it off on the right foot with a morning spin at SoulCycle and lunch with my mama. I hope your day is filled with lots of little pick-me-ups that lead into a great week!
Love from Texas,
Kate