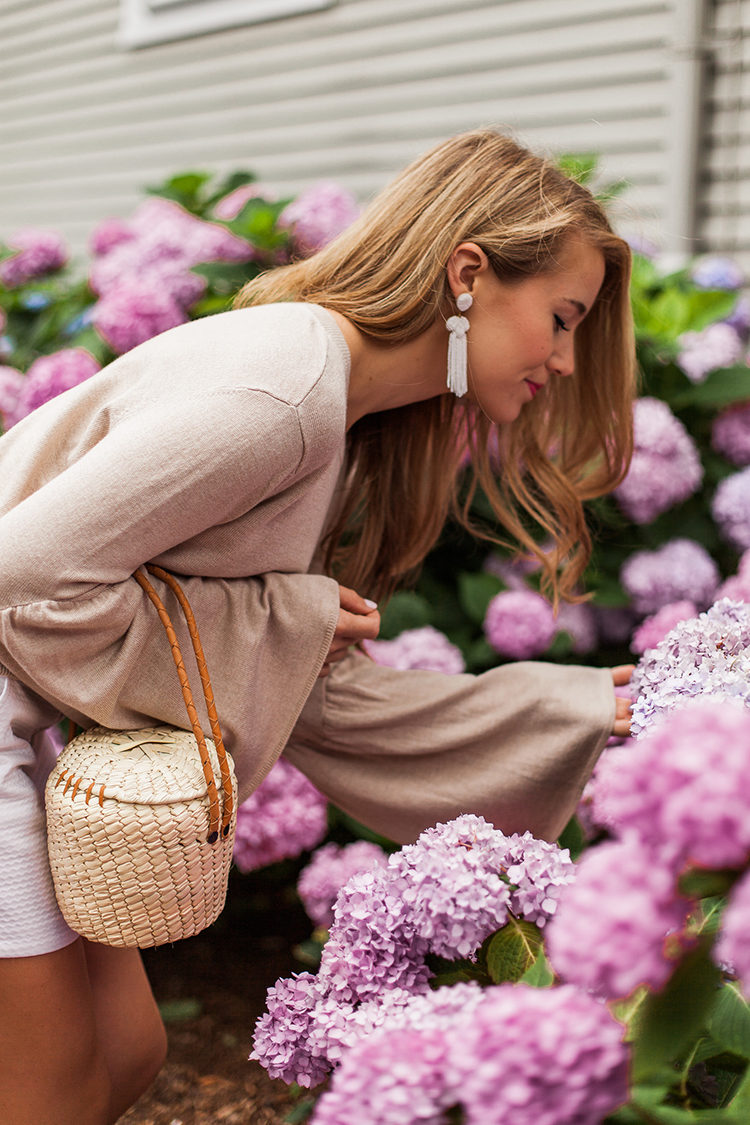 SWEATER   bell sleeve sweater (similar, lower priced here)   |   SKORT   white lilly pulitzer skort   |   EARRINGS   white beaded tassel earrings (sold out j.crew, similar here)   |    SHOES   monogrammed Jack Rogers sandals   |   BAG   woven basket bag
I've traded the Atlantic for the Gulf of Mexico this week, moving from the crisp, salty air of Nantucket to the warm, balmy breezes of Seaside, Florida. (I feel I should also add excessive humidity right behind balmy breezes, it just didn't sound quite as elegant.) While Seaside is my favorite place in the world, I'd be lying if I didn't say that I'm missing the cool air and colorful sidewalks on Nantucket!
Nantucket was also exceptionally fun to dress for, as the overall style allowed me to lean into my more "preppy" side and the cooler weather afforded an opportunity to put a few light sweaters to use! Take this bell sleeve sweater, for example. It was one of my first purchases from the Nordstrom Anniversary Sale, and while it is currently sold out, I'm thrilled to have found a similar style at an even better price.
We've already seen the bell sleeve trend pop up this summer, and if the Nordstrom Anniversary Sale is any hint for where things are headed, I have a feeling we're going to be seeing a lot more of it this fall and winter! I must say, it's one trend I'm definitely excited for. When done correctly, it adds a really fun, feminine touch to any piece!
Today is my me and my family's second day here in Seaside, Florida and friends… it has already been so, so good. I must apologize for not having a post up yesterday! I decided to give myself a little break and truly unwind yesterday. I'll be back this week, though, with more blog posts and more Instagrams covering my favorite beach looks! You can see what I've been wearing so far here.
And before I sign off, I'm going to give you blog readers a special heads up… I brought a new giant inflatable to the beach this year, and it may be even better than Serena. (But don't you dare tell her I said that!) Can't wait for y'all to see it!
Love from Texas,
Kate