The arrival of spring means that a certain, special date isn't too far away for many of you ladies… prom! I've received quite a few emails over the past few weeks regarding this event, so I'm incredibly excited to be partnering with Saks Fifth Avenue to bring you some #promspiration from their stunning collection.
I remember that along with all the fun and excitement surrounding the evening comes a certain degree of pressure… from finding the right dress to deciding on a makeup look and how to wear your hair, it's a lot to think through! So today, I'm walking through two prom looks I've created with Saks, and sharing advice on how to feel like a movie star on your big night.
And right up front, I want you to know of an unbelievable promotion Saks is running through this Sunday, March 15th because it's just too. good. to. miss.
Make Your Moment: Take 25% off select party & prom dresses. Use code DRESS16. Valid 3/7-3/13. SHOP NOW!
A beautiful prom dress can be quite the investment, but 25% off can make an enormous difference! Both dresses below are included in the promotion (AKA 25% off) along with a myriad of other beautiful designs, so ladies… time to get shopping!
LOOK No. 1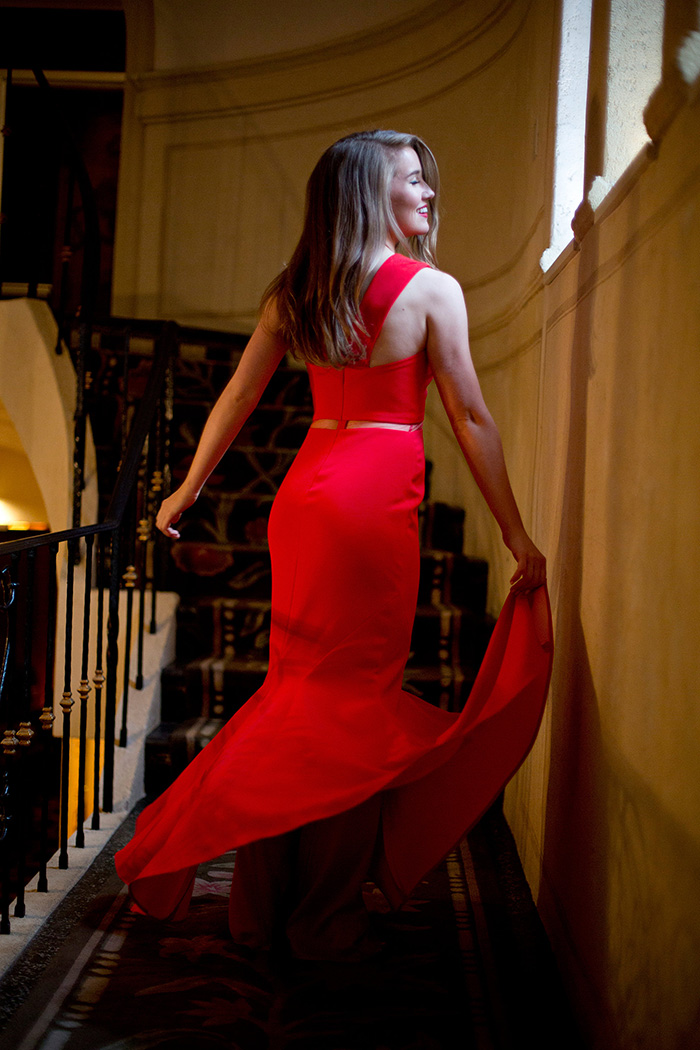 DRESS (wearing size 0)   |   HEELS (my go-to formal shoe)
When it comes to making a statement, a knockout red dress always delivers. This beautiful cutout gown is no exception! Apart from being incredibly stunning in and of itself, there are so many characteristics about this style that make it a perfect prom option.
For starters, it is so comfortable! The beautiful neckline means you can dance the night away without having to yank your dress up. (My worst nightmare.) The material is a giving, flattering fabric that smooths in all the right places while being so easy to move (read: dance!) in. Furthermore, the mermaid cut is instantly elongating. At 5'2″ I never thought I could pull off a mermaid gown, but this dress proved me wrong! And can we talk about the stunning cutout detail? I'm not a huge cutout girl, but the tasteful way it was incorporated into this gown instantly changed my mind.
With the code DRESS16, you'll save nearly $70 on this beauty. So yes, dreams come true.
LOOK No. 2
DRESS (wearing size 0)   |   HEELS   |   EARRINGS (similar linked)
Fresh, flirty silhouettes are always a fun option for prom, and that's why I love this gorgeous black and white gown. The blousy, deep-v top gives the gown a stunning, feminine flair, and manages to make a statement without being too revealing. It is actually lined with boning, ensuring a secure, flattering fit to last all night long!
I am also smitten with the contrasting white skirt, which manages to give the dress a bright pop that definitely ups the fun factor! The fun thing about this style in particular is there are so many ways to make it all your own. Personalize it with your favorite bright lip, or add a statement earring to really set the look apart! With the code DRESS16, you'll save nearly $85 on this gown.
PROM STYLE ADVICE
When it comes to creating the perfect prom look, the whole process can definitely seem daunting. My hope for each of you ladies heading to prom is that you feel so confident and beautiful, you can spend the whole evening focused on having fun instead of what you look like! Let's run a few helpful tips to keep in mind to make sure that happens.
1. HAIR
Over the years, I've come to one very definite conclusion. Up do's are tricky. I've spent my fair share of time scrolling through Pinterest to find the perfect 'do, only to walk out of the hairdresser feeling like a poodle. Cue waterworks… not the way you want to start out your big day! So my advice? Opt for a beautiful, elegant down-do. I love going for volume and subtle waves for a glam look I always feel beautiful in! You can always add a pretty braid to give it some flair.
2. LIPSTICK
Like hairstyle, the lip color you chose to wear can really make or break your look. Time after time, I've left the makeup counter after getting my makeup done with a shade I hate. I've learned to stick with what you know! So before prom weekend, grab some friends and head to the mall to try out and shades you truly love and feel comfortable in. Personally, I know I love the look of NARS Schiap (worn with the black and white dress) for a bright pink and NARS Heat Wave (worn with the red dress) for an eye-catching red. If you go get your makeup done for the big day, be sure to bring your color with you and ask the artist to incorporate it into your look.
3. TAN
There used to be a running joke among my guy friends in high school… the Thursday or Friday before prom, they would laugh at how all of the sudden, almost every girl showed up to school looking like they had just returned from a beach vacation (best-case scenario) or Oompa Loompa-ville (worst-case scenario). But if done correctly, a beautiful fake tan has the power to make dresses look lovelier on, and photos more flattering! I am naturally very pale, but have found one perfect solution that always works wonders on me without leaving me orange and unsightly.
Ever since high school, I've gotten the Versa spray tan in "clear, light." Right up front, you may be tempted to think "That doesn't sound like a lot of color. I want more!" RESIST THE URGE. It's just enough to give you a pretty glow without it looking painfully obvious. Y'all, we DON'T want to look obvious. I have the tan on in the photos above so you can see for yourself!
4. DRESS
I know dress hunting can seem overwhelming, but it doesn't have to be. I recommend keeping key colors and silhouettes you know you look good in in mind when beginning your search! Do you love bright colors or timeless neutral shades? Does a strapless neckline make you feel the most glamorous, or are you more comfortable with some sort of strap? Do you love an A-Line cut, or is the fitted look the silhouette you're after? Saks has a beautiful, huge prom gown collection with every neckline, color and style you could dream of. A few favorites? This dreamy blush number, this structured cobalt beauty (obsessed with the leg slit) and this timeless black stunner.
Whether you're off to prom, or wishing you were (like me) I hope this post managed to give you some fun inspiration! If you have any of your own tips and tricks for creating the perfect prom look, please leave them in the comments below. I always love picking up on new ideas! And don't forget, the 25% off promotion with the code DRESS16 ends on Sunday, March 17. Don't miss out!
Have the best weekend, friends!
Love from Texas,
Kate
Photography by Megan Weaver taken at the beautiful Rosewood Mansion on Turtle Creek