With the arrival of May (!!!) comes one of my favorite days to celebrate… Cinco De Mayo! This Thursday, May 5th, it's time to pull out the maracas, don you're favorite off-the-shoulder top or embroidered sundress and head to your favorite Tex Mex spot. We've got some celebrating to do!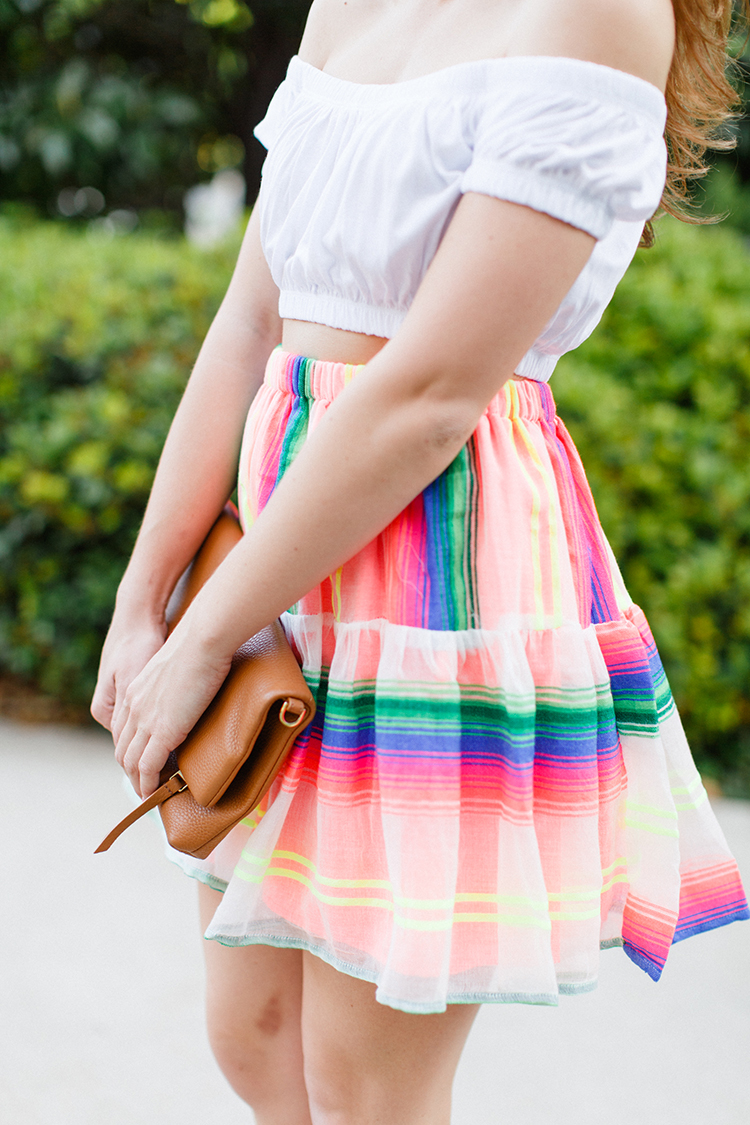 SKIRT   neon striped skirt   |   SHIRT   off the shoulder crop top (under $20)  |   WEDGES   m.gemi peonia wedges   |   CLUTCH   tory burch crossbody/clutch   |   HOOPS   julie vos hoops   |   LIP COLOR   schiap
When I saw this darling neon striped skirt, I knew I'd found the key piece to my Cinco ensemble. I love the modern, fun spin on the classic Mexican stripe motif! Neon pinks and corals? Muy, muy bien. To play up the holiday, I paired it with an off-the-shoulder crop top, but can't wait to get more use out of the skirt by pairing it with a sweet white or blue tank this summer!
If you're ready to celebrate this Thursday, but neon skirts aren't your thing (no offense taken, I promise…) I've rounded up a few other darling options below:
You'll also spy a pair of new wedges in today's post… I was recently introduced to the brand M.Gemi, and I am absolutely smitten. The ordering process was so informative and seamless, and the packaging and boxing the shoes came in quite literally took my breath away. The quality of the shoes far exceeds the price point, so I'd encourage you to check out the brand here if you're in the market for a pair of quality summer shoes!
Well, well, well… happy Monday, friends! If you're following along on snapchat (LonestarSnaps) you'll have seen that yesterday I began moving into my new apartment! After a full day of unboxing and building, it's starting to come together beautifully. I can't wait to show you more! Also, don't forget, I posted a rare Sunday outfit yesterday! Be sure to check it out here if you missed it.
Love from Texas,
Kate
Photography by Stephanie Drenka