When I first started the wedding planning process (those many blissful months ago when the big day was a far, far-off dot on my calendar) I felt like I had a pretty good understanding of what goes into making a wedding beautiful:
Lovely flowers. Pretty white dress. Big, yummy cake. Fun party.
Sounds simple enough, right? I thought so, too. That was until I began learning about all of the "under the radar" elements that go into creating a breathtaking event.
What do I mean by "under the radar", you ask? The pieces of a wedding you don't even realize are orchestrated. Those special touches that look so lovely and natural and organic that they create an entire ambiance without you even knowing it. Added elements like rentals, y'all, which I've learned are singlehandedly one of the most impactful ways to customize your event!
I came across Perch Event Decor during one of my lengthy Instagram rabbit trails as I was searching for wedding inspiration in the Dallas area. After scrolling through their website (be warned, you can spend hours on there!) I decided to make an appointment! One visit to their beautiful, colorful, chic showroom and I knew they were just the team I wanted to help me transform my reception space into something truly personal and amazing.
Today, I'm thrilled to walk you through the beautiful Perch Event Decor showroom here in Dallas, Texas. Doesn't it just make you smile? Read on for a few sneak peeks into what we have up our sleeve for the big day!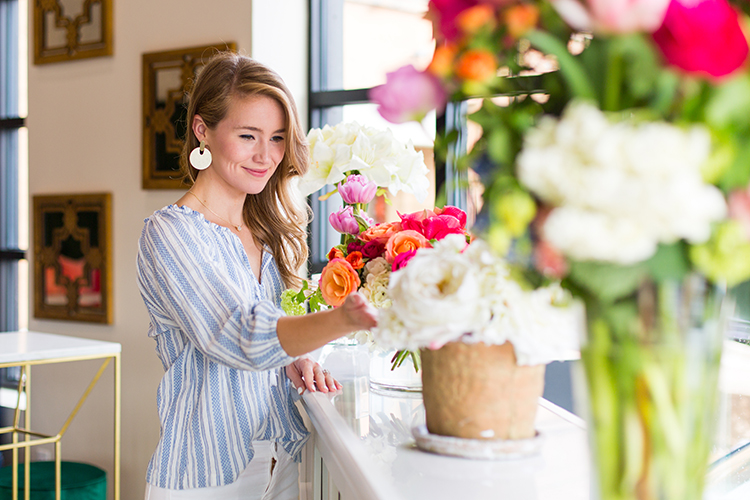 TOP j.crew blue striped peasant top | EARRINGS kendra scott didi earrings | NECKLACE kendra scott jaxon necklace | SHOES gold wedges (sold out, available in cheetah here) | JEANS white jeans | WATCH michele high shine watch
I never realized that the options for designing an event space were truly so endless. From additional seating for your guests to stage fronts that frame the dance floor and even walls and shelves to enhance or create separate areas, there are so many ways to bring your own personal look to a party.
Meeting with the Perch girls to dream up my reception has easily been one of my favorite parts of the planning process. They caught my dream immediately, and always had an adorable cup of coffee (in the cutest
"Perch" cups) ready for our meetings! It's so easy to be overwhelmed by all of the decisions and options that come with wedding planning, but they were able to recommend exactly what would best-enhance the reception.
Y'all have already heard that there will be lots of pinks in the wedding, and today I thought it would be fun to share a few more hints about the whole look! Let's just say the Perch team will be adding the perfect pops of white, gold and pink to create a beautiful evening ambiance. And have I ever been one to turn down a ginger jar? :)
In fact, one of the things I'm most excited about is the outdoor seating area Perch is putting together! When you get a second, cross your fingers extra tight and pray for clear, sunny skies for me, because it's going to be so beautiful if weather permits!
So if you're in the process of dreaming up your own wedding, don't forget that you can truly transform any space into something you just love. I can't wait to see everything the Perch Event Decor team has in store, and am so excited to reveal all of our ideas after!
Love from Texas,
Kate
Thank you, Perch Event Decor, for being a part of our big day!