Even though wedding planning gets a bad rap for being stressful (ok, fine… it does get a bit stressful from time to time), there have been so many fun pieces to it. Undoubtedly, one of the most fun parts of the entire wedding planning process thus far has been picking out my bridesmaid dresses!
As long as I can remember, my mom, sister and I have dreamed, schemed and plotted about bridesmaid dress selections even more than wedding dresses. Isn't that funny? The consensus we reached years ago? The three of us would make the decision together when the time came!
So a few months ago, the three of us made our way to Bella Bridesmaids Dallas to begin the hunt. And oh what fun we had!
If there's one thing I've been in my life, it's a bridesmaid. As of today, we're up to five times and counting! And through those experiences, I learned one very important thing: Bella Bridesmaids makes the entire experience an easy, fun process. I learned firsthand as a bridesmaid how seamless the experience is using Bella Bridesmaids, so when it came to my own wedding, I knew exactly where to shop for my bridal party!
Today, I'm so excited to share the Bella Bridesmaids experience with you. Like I said above, the Bella team has made this part of wedding planning such a wonderful, easy experience, and this is coming from the perspective of both a bridesmaid and a bride!
1.Booking an Appointment
A few months ago, my mother, sister and I made an appointment at the Bella Bridesmaids showroom here in Dallas, Texas. Fun fact: there are over fifty Bella Bridesmaids locations all over the country! I used this page to find the one closest to me and book an appointment. We set a date and headed off to begin the hunt!
Since my sister is my maid of honor, I wanted her opinion first and foremost. So, the three of us made a girls day out of it! For once, I got to sit and relax while my sister tried on every gown under the sun! :) I think the photos below give a good hint as to how much fun we had!
2.Selecting Options
When it came to pulling dresses, the options were absolutely endless! Whatever the style, whatever the color, whatever the material… the Bella Bridesmaids showroom has it all. Our consultants were the sweetest and asked all about my vision and color scheme to get an idea of what I was looking for. In no time they had pulled tons of gorgeous options! I love that I wasn't limited to one designer, one color palette or one size range.
I also spent time wandering through the gorgeous, colorful racks and found a few favorites of my own. Talk about inspiration! The huge array of colors was seriously jaw-dropping. I didn't realize there were so many bridesmaid dress styles out there!
3.Time to Try On
After rounding up a gorgeous selections of options, we sent Steele into the dressing room to try the dresses all on!
Our consultants were so helpful in pinning each dress to Steele's figure, explaining differences in materials and answering all of the questions we had about each style. One of my main priorities was for every single one of my bridesmaids to feel beautiful and comfortable in the dress, and thanks to the wonderful Bella team, we had plenty to choose from that checked off that important box!
Scroll below for a few of our favorites!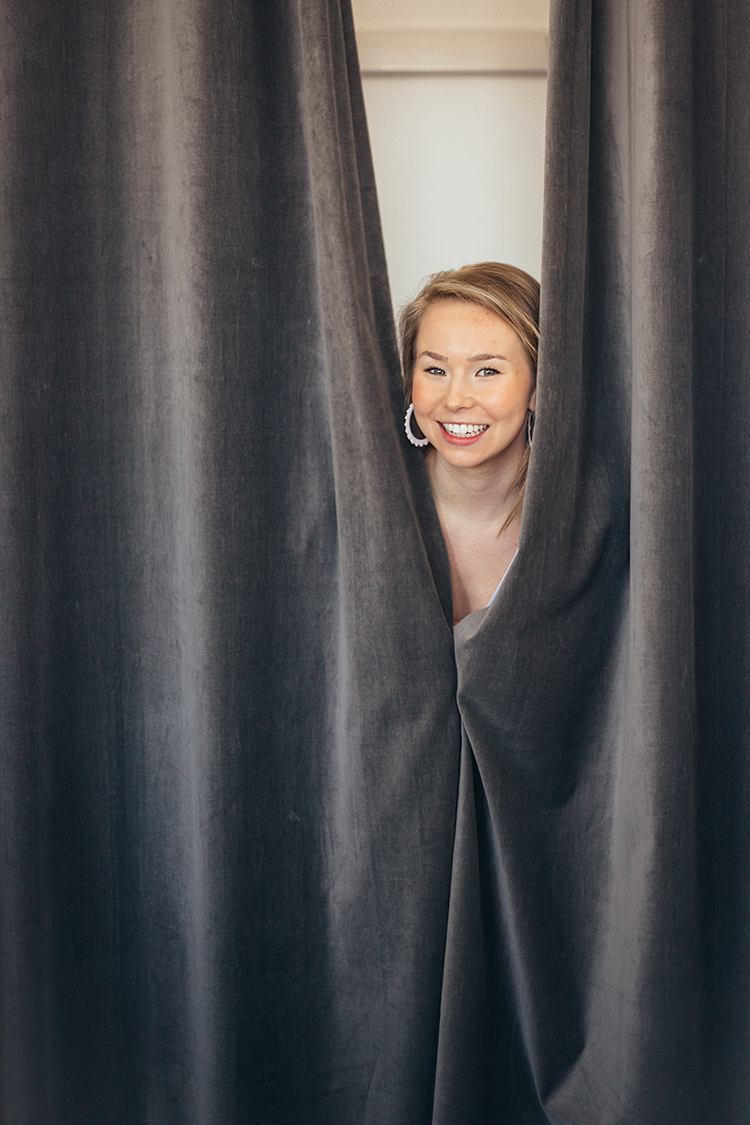 DESIGNER Dessy Group for Bella Bridesmaids // STYLE BB123
DESIGNER Dessy Group for Bella Bridesmaids // STYLE BB116
DESIGNER Dessy Group for Bella Bridesmaids // STYLE BB124
DESIGNER Jenny Yoo // STYLE Rochelle
4.Creating my Virtual Showroom
We had so much fun that the time flew bye. Before I knew it, we had decided on a dress that both myself, my sister and my mom just adored!
The next step? Looping in all of my bridesmaids! While this normally would give anyone a headache (so many sizes and people and payments to coordinate), this process is one of the main reasons I am so thankful for the Bella Bridesmaids experience.
Bella Bridesmaids has an amazing program called the "Virtual Showroom," which basically acts as an extension of the in-store experience. Your bridesmaids are able to log on, see the bridesmaid dress style, keep track of deadlines and place their order… no matter what city they live in!
Our consultants set this up in a flash, and were able to add all twelve of my girls to the Virtual Showroom just like that! This was especially helpful for me, as my bridesmaids live all across the country. From San Fransisco to Chicago to Washington D.C. and beyond. The great news is that there is a Bella Bridesmaids location in each of the cities my girls are in, which made fittings and shipping a breeze!
My girls all received emails inviting them to the showroom, which provided further information on sizing information, ordering deadlines and payment information. All of my bridesmaids were able to stop into their local Bella bridesmaids location to get fitted for free, then place their order online!
I was able to track all of this via the Virtual Showroom, which gave me so much peace of mind. When all of the dresses arrived, the Bella Bridemaids team made sure each girl received hers and kept me updated on every step!
The Bella Bridesmaids Experience
At the beginning of April, the Bella Bridesmaids team called to let me know that my dresses had arrived. A whole month early! Needless to say, I was shocked in the best way! My girls all have their dresses now, and I'm giddy to see them on in person.
The whole process, start to finish, was so easy. There are a lot of logistics involved when ordering dresses for such a large group, and the Bella Bridesmaids team made sure every step was incredibly smooth. As a bride, I loved knowing all of my girls were being taken care of!
Like I mentioned at the beginning of this post, I've also experienced Bella Bridesmaids from the perspective of a bridesmaid. My sweet friend Amanda used Bella Bridesmaids for her bridesmaid dresses, and I had the easiest time with it all!
From the free fitting at my Dallas location to the deadline reminders to simple payment portal, Bella Bridesmaids made the ordering experience a breeze. Amanda chose the After Six style 6783 in the color Larkspur and all of us bridesmaids absolutely loved dancing the night away in it this weekend!
I mean it when I say the Bella Bridesmaids experience is the best when it comes to finding beautiful gowns for all of your girls. All of my friends have loved the process thus far, and I am so thankful for that!
I can't wait to show you the style we decided on after the wedding, so stay tuned to see all of my girls in their Bella dresses! And if you're a bride to be, click here to find the Bella Bridesmaids showroom closest to you! It might just be the best decision you make while wedding planning.
Love from Texas,
Kate