This weekend, y'all. Busy doesn't even begin to cover it, nor can I adequately explain just how much fun it was. Why? On Saturday night, Andrew and I had our couples shower!
Saturday was also my birthday! A few months ago when we looked ahead at spring, we realized because of Andrew's intern year schedule, he would have a really hard time finding a weekend night he could 100% commit to. April 13th was the one weekend night this spring he felt comfortable with, so we decided to go for it!
Since you only get to have one couple's shower in your life, I decided to move the birthday celebrations to Friday and keep Saturday all about the upcoming wedding. Our fabulous hostesses planned us a fantastic fiesta, and Andrew and I couldn't wait to spend the night celebrating with our favorite people!
Scroll below for a few favorite images from the evening, then read on for all the details!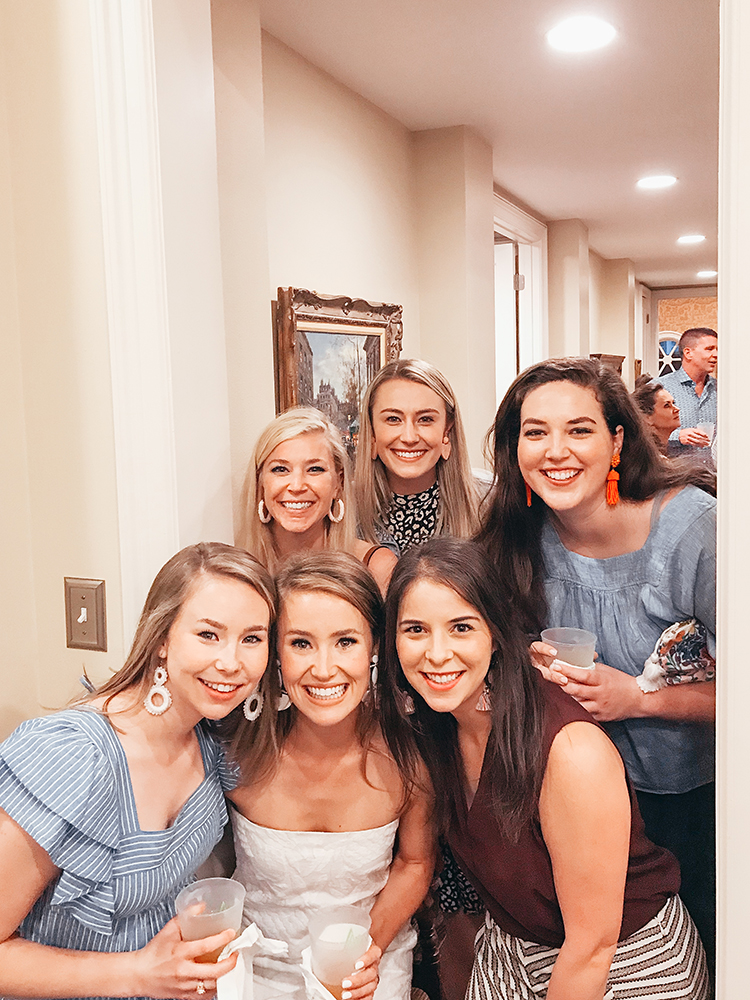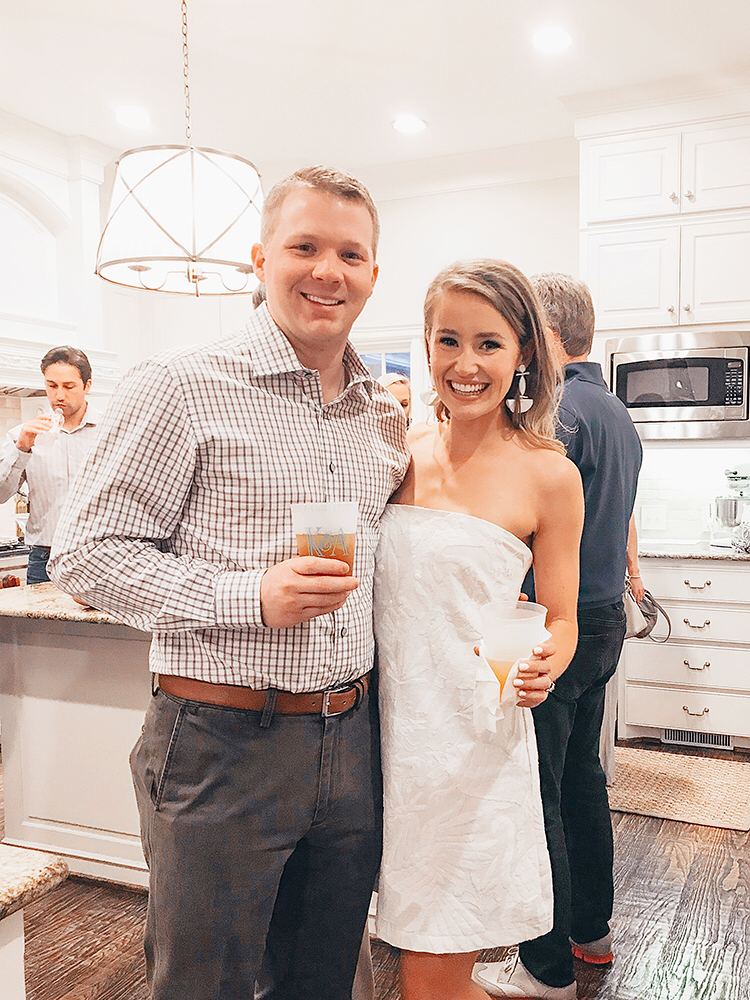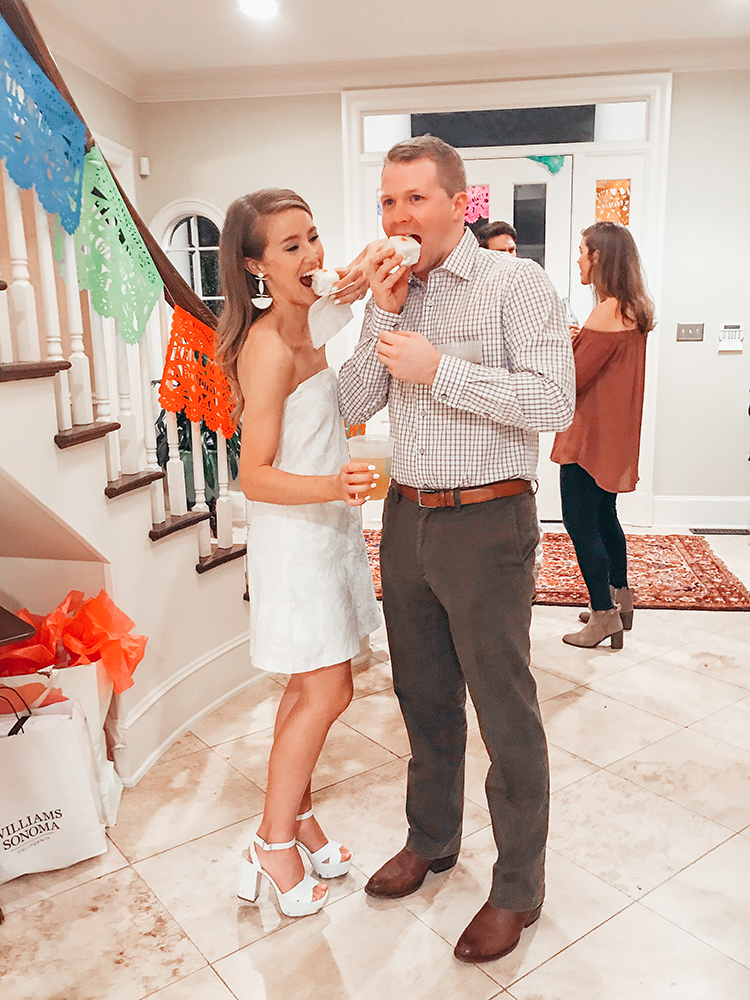 DRESS white otomi mini dress | EARRINGS liza yates earrings | SHOES white platform heels | MOM'S DRESS j.marie embroidered dress
It was actually pouring all that night, but you never would have known from the fun we had! Our amazing hosts filled the night with gorgeous fiesta decor (how much do you love our bride and groom pinatas and custom picado banners?!), delicious fajitas, festive couples drinks (an "Andrew Palmer" and a "Peach Me I'm Dreaming") and tons of memories and laughter.
So many of our friends and family joined us, which finally gave me a taste of how incredible our actual wedding will be. All of your favorites in one place?! I can't wait! It also made me realize just how difficult it will be to actually eat at my wedding. I hardly had a bite I was talking so much! :)
When the time came for everyone to go home, I have to confess… I got a bit sad! It was just such a magical night. Andrew and I get so little time together with his current schedule, let alone with all of our favorite people, and I didn't take a second for granted. I truly cannot thank all of our hosts for making it such a special, memorable evening!
Now, on to what I wore that evening! Once I learned the party would be "fiesta" themed, I immediately began the hunt for a dress made out of my favorite pattern, Otomi! In fact, I love it so much that I decorated my entire apartment bedroom with it!
My vision? A white, simple mini dress with white Otomi embroidery.
When nothing came up from my initial search, I decided to try my luck at Etsy. It wasn't long before I came across Arte Otomi. Talk about Otomi obsession! They had tons of beautiful Otomi pieces, from lampshades to furniture and nearly everything in between.
When I came across their Otomi wedding dress, I immediately reached out to the owner to see if they could create a custom silhouette for me. Martha responded nearly immediately, and within minutes we were dreaming up the simple, chic mini dress you see above!
A couple of weeks later, it arrived in the mail. My dream dress, y'all. I'm seriously in awe of the quality and craftsmanship! The photos from the wedding shower don't do justice, so I'll have to take some in natural light soon so you can see the detail for yourself.
Needless to say, this will not be my last order from Arte Otomi! I'm already dreaming of this same dress but in multicolor! Martha, thank you for making this vision and dream of mine come true. It was absolutely perfect in every way. And friends, I'm thrilled to say that you can now shop my dress here!
To wrap it up, I am so thankful for this weekend, so thankful for such a wonderful evening and so thankful for all of the friends and family who celebrated with us. Now that my bachelorette party is over and our showers have all come and gone (I can't wait to share more about my womens shower soon!) you know what the next thing on the calendar is… the actual wedding! Now THAT is a crazy thought.
I hope this recap was a fun one to read! You know I mean it when I say Wedding Wednesday posts are my very favorite, so thank you for tuning in!
Love from Texas,
Kate
P.S. Even though we technically celebrated my birthday on Friday, I walked out to see a massive pair of "26" balloons on Saturday morning. Cue the tears! Andrew Bowman, you are the BEST surpriser!