It has been months since my last Wedding Wednesday post (not to mention over seven months since Andrew and I married… what?!?!) so needless to say I am thrilled to be back with another wedding-centric post!
When I first mentioned "bridal portraits", I was surprised to receive many messages asking what on earth bridal portraits are. It didn't take me long to realize that the tradition is mainly a southern thing, Who knew?!
So today, I thought it would be fun to share a little history of bridal portraits, a few reasons why I loved taking them, and of course… the images! (Along with the one we chose as the "official" portrait.)
We'll start with the photos, then get on to the rambling below. :)
my bridal portrait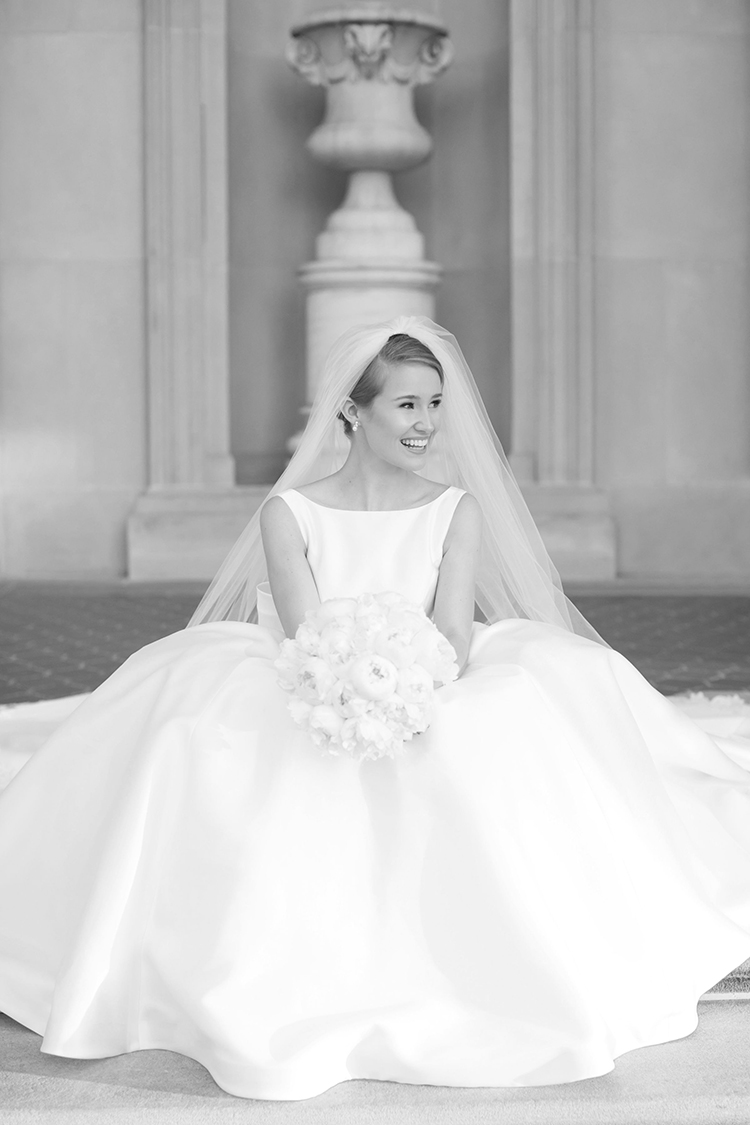 While traditionally, a bridal portrait features the entire dress, I wanted something a bit more relaxed and in-line with my personality. We decided on this black and white shot of me sitting on the stairs of Park Cities Baptist Church. There's something classic about it that I love so much!
my bridals
Here are a few other favorites!
a brief history of bridal portraits
The history of bridal portraits dates back to long before cameras were around. In a nutshell, royal families would have oil portraits commissioned of a bride in her regalia to commemorate the occasion.
Fast forward to the mid-1900s. At this point, it wasn't especially common to have a photographer at one's wedding and reception. Brides would, therefore, dress in their full ensemble and pose for a photo at a photographer's studio in order to capture the occasion.
This photograph was then displayed at the wedding reception near the sign-in book, a tradition that has carried through to today! Brides would also often gift this portrait to their husband for his desk. So sweet, right?
In today's world, where nearly everyone has a camera on hand (thank you, cellphones), bridal portraits have become less of a "necessity" and more of a following of tradition. I have plenty of friends who have taken bridals, and plenty who haven't. It seems to be a mixed bag these days.
why i loved taking bridal portraits
If I'm being honest with you, taking a bridal portrait was never really up for debate during the wedding planning process. It was something that had always been done in my family, and we (and by "we" I mean my mother and I) didn't ever consider not taking them. I am so, so happy I did take bridal portraits, and thought it might be helpful to share why if you're on the fence!
trial run
The day of my bridals was when we scheduled a full hair and makeup trial run with my fabulous makeup artist, Maitee. This allowed me to see my whole "look", from head to toe, before making the final walk down the aisle. I'm so happy we did this, because after taking the bridals and seeing the images, it allowed me to make a couple of minor tweaks. For one, I realized I wanted to wear my veil a bit lower. Another small change? Making my hair a bit softer. Finally, we ended up adjusting my bow one final time in alterations to make it less "poofy" and more symmetrical. All small details, but ones I'm glad I had the chance to perfect!
more time in my dress
I also love, love, loved having a few extra hours to "play" in my dress. Just as everyone warned, our wedding day flew by. That's why I look back on the evening of my bridal portraits and feel so thankful for the time I got to spend, on a sunny and calm evening, soaking it all in before the big day! There wasn't a strict timeline I had to follow, nor were there hundreds of guests to greet. It was just a fun, carefree afternoon spent getting excited for the big day!
stress-free shots
Another reason I'm thankful we took bridals? What started as a sunny, bright wedding day turned into a huge rainstorm right before the ceremony! Looking back, if it had rained all day we would hardly have any photos in my dress and veil. Some of my favorite images and details of my dress and veil were captured during the bridal portrait session, and I'm so grateful we have them!
We also got to have fun. I was dying for a "cupcake shot," and I kid you not, those were the words I used when I told John my vision. He captured it perfectly, both in his studio and at the church, and we ended up using one of them for my official portrait! My dad also handed me his sunglasses at the end of the shoot, and it resulted in one of my favorite photos:
special memories
Not only did taking bridal portraits allow me to tweak my final look and spend extra time in my dress, but they also provided me with some of the sweetest memories. It was a magical afternoon with my mother, sister, and of course, John.
I also had my dad join at the end of the session! He and I are incredibly close, and I knew we both needed to let out all of our tears before the big day. Just like we had predicted, waterworks were flowin'. Now, granted, we were still very emotional at the ceremony. But it was definitely worth it to get the initial cry-fest out of the way! (Here's me seeing my dad right when he walked up.)
This is also one of my favorite photographs ever, and one I'll cherish my whole life.
"should i take bridal portraits?"
I think this question really comes down to what is most important to you in terms of budgeting. Choosing not to take portraits can, on the one hand, be a great way to save money. Plus, odds are you will be able to take the same type of photos on your actual wedding day! And honestly, I don't know that anyone truly misses seeing a portrait at the reception. The bride is right there, isn't she?!
If, however, you love the tradition of capturing a portrait and it's not too detrimental to your budget, it can be a great way to capture some special moments before the big day. I also think it's a great way to take away some of your anxiety/nerves in regards to your hair and makeup for the day-of!
Hopefully this answers all of your questions regarding bridal portraits, but if not, please let me know in the comments below! Now I'd love to know… did you take bridal portraits, or do you think you will?
Love from the Sunshine State,
Kate
vendors
Photography John Cain Photography // Hair & Makeup Maitee Miles // Florist The Garden Gate // Wedding Dress Neiman Marcus Bridal Salon // Wedding Dress Designer "The Brooklyn" by Sareh Nouri // Ceremony Venue Park Cities Baptist Church // Shoes Monolo Blahnik Hangisi