Moving to Florida has given me a whole new respect for southern summer humidity. Early spring in this state is a dream… balmy weather, blue skies, blooming flowers everywhere you turn! But once mid-to-late summer rolls around, it's all I can do to step outside… let alone get dressed in something cute!
That's why I'm so excited about the new spring and summer arrivals from Southern Tide. From adorable, classic activewear to perfectly southern sundresses, you'll find so many pieces that make dressing for summer not only doable, but enjoyable as well!
Today, I'm excited to partner with this brand that I have loved for quite a while (remember the trip we took to Nantucket back in 2017?) to share a few of these pieces with you! I'll be sharing a little try on on Instagram Stories today as well so you can see these pieces in motion.
sporty & striped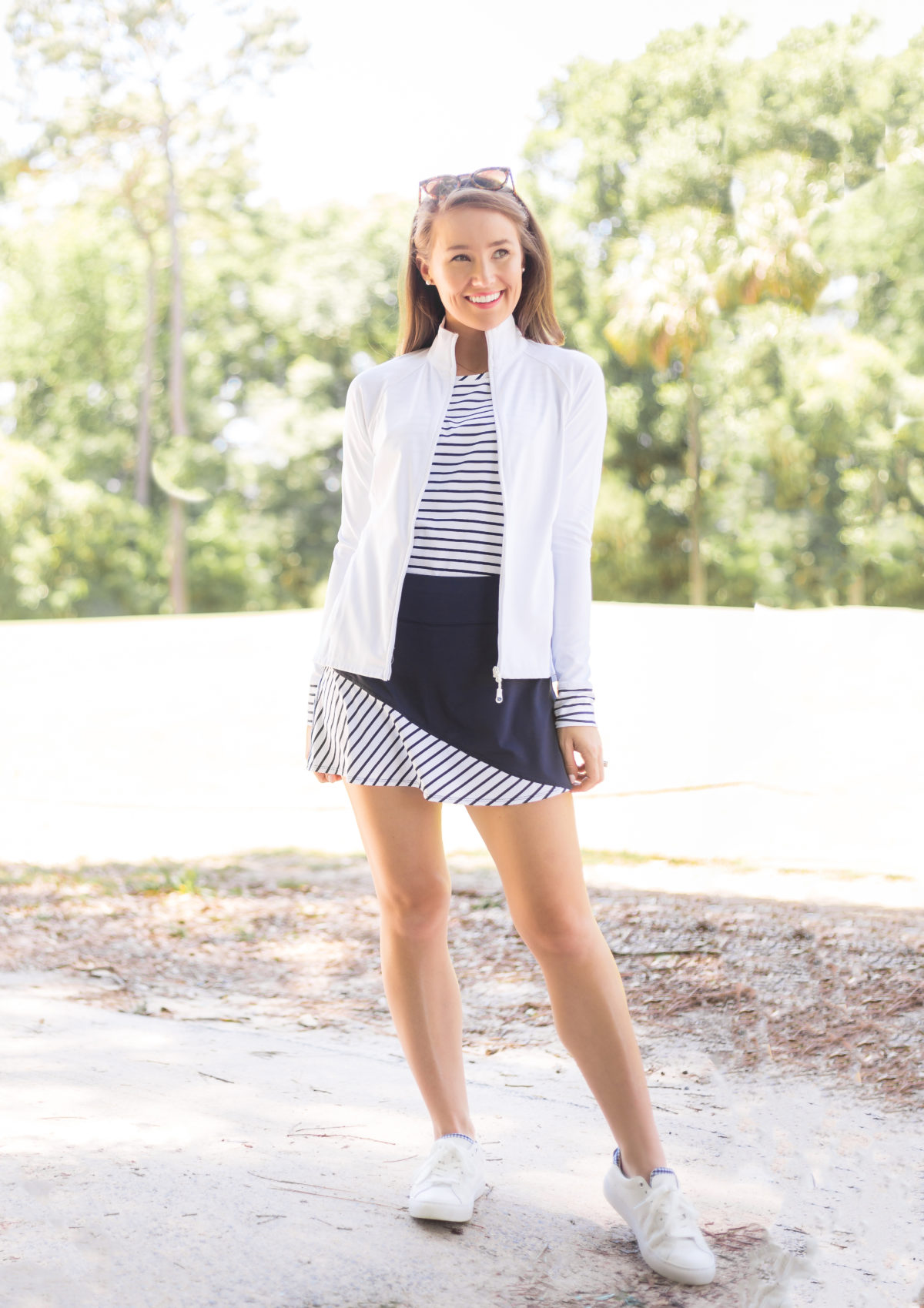 SKIRT katlyn striped athletic skirt (wearing XS, fits true to size) // TOP mali striped performance tank top (wearing XS, fits a bit generously) // JACKET viviette athletic jacket (wearing XS, fits true to size)
From evening golf with Andrew to errands around town, it seems like I'm always reaching for a tennis skirt. This navy striped skirt from Southern Tide's activewear collection is what my preppy-loving dreams are made of! The fit is fabulous (not too tight, not too short, lies along your waistline perfectly) and I cannot get over the classic stripe motif. I also love that they are lined with fitted shorts that have a discreet pocket for your cellphone!
Pair it with the mali top for a classic and cute ensemble perfect for whatever adventure your summer has in store! And when you need an extra layer, grab the Viviette jacket. It has the most adorable striped detailing along the collar and cuffs, and a little pleating along the back that makes for a really fun, feminine look.
the perfect summer sundress
DRESS sammi gingham performance wrap dress (fits true to size, wearing an XS)
I don't want to sound dramatic, but this gingham dress is everything and so much more than meets the eye! You can't tell just looking at it, but it's made with an incredibly lightweight performance fabric with moisture wicking technology… making it perfect for golf tournaments, picnics, or any activity that has you outdoors!
It also has an incredibly flattering wrap silhouette, which complements every figure. I couldn't love this classic little sundress any more! Be sure to check out all of the adorable styles Southern Tide currently has out here.
So whether you're looking for cute activewear to take you through all the fun you have planned these next few months or the perfect summer sundress, be sure to check out Southern Tide and all of their new spring and summer pieces!
Love from the Lonestar State,
Kate
Thank you, Southern Tide, for sponsoring this post.