The Pantone "color of the year" will come and go, but one thing I'll always have in my closet is a little pink something. There's a reason why pink has come to be associated, even to the point of being cliché, with everything female and feminine…  there's just nothing quite as girly and fun! If there's one color that personifies me in a nutshell, pink is it. And that's why this cold shoulder top (under $40!) and I are new besties for the resties.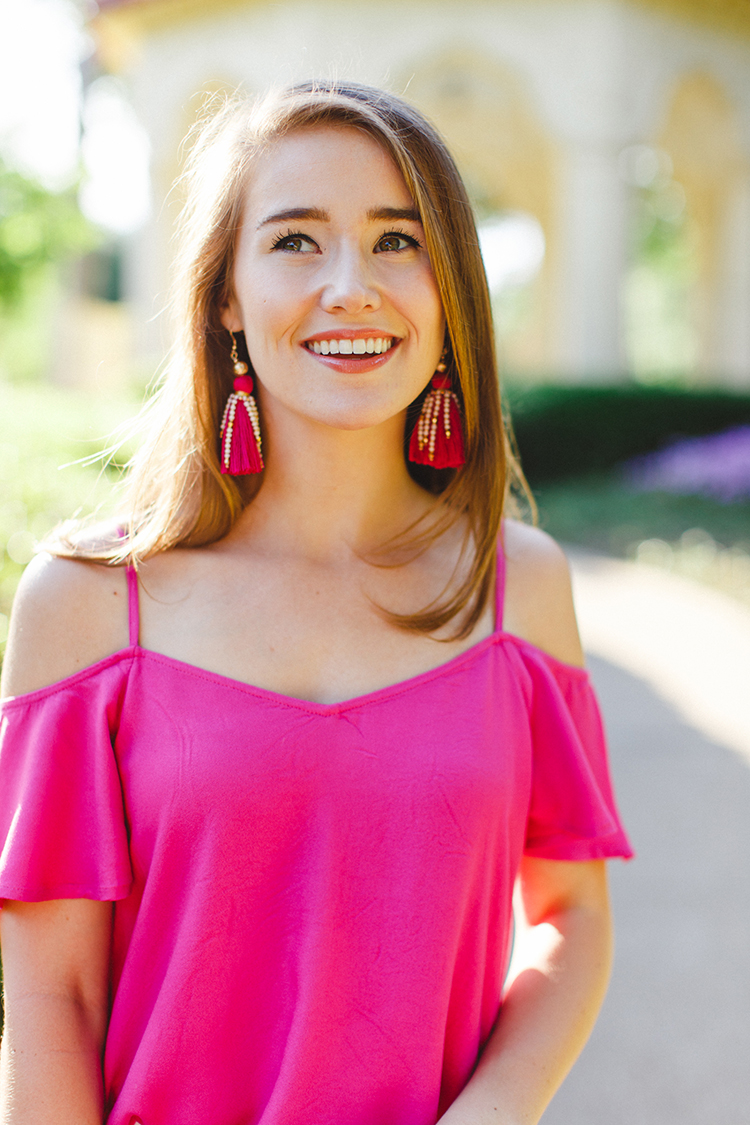 TOP   pink cold shoulder top (under $40)   |   EARRINGS   pink tassel earrings (under $15, also in black)   |   CLUTCH   tory burch crossbody/clutch   |   JEANS   white flare jeans (my favorite, and under $30)   |   SHOES   charming charlie tan wedges
For whatever reason, I hadn't tried the "cold shoulder" silhouette until coming across this beauty. The verdict? In love! I've found it to be a fresh, fun look for spring and summer, especially if your closet is bursting to the seams with off the shoulder everything… #guilty.
Right after picking up this top, I wandered into H&M. (Never a smart idea… never…) As fate would have it, these precious pink tassel earrings (with the cutest bead detailing) were just waiting for me! How could I say no… not only do they match this top perfectly, they'll be the cutest statement earrings for the coming months. I'm also buying them in black, because at under $15 it would be a crime not to, right? All together now… "Right, Kate!" Say it.
If you missed my Instagram yesterday, I wanted to apologize for being seemingly "off the grid" these past few days! My phone went into full-on flip out mode. My texts were deleting and reloading, contacts were disappearing, and my photos wouldn't upload to Instagram, but couldn't be deleted, either. Big. Ole. Pain. But I got it resolved yesterday morning, so I'm finally back and couldn't be happier about it. Love y'all lots and lots!
Love (see, I mean it) from Texas,
Kate