A couple of weeks ago, Andrew and I set off for a long-overdue long weekend in one of my favorite spots on earth, Seaside, FL. I have to confess, one of my favorite things about living in Gainesville is that this destination is now only a four-hour drive away!
I've only and always visited Seaside with my family, and so it was really special (and a little weird!) to plan a trip for just my husband and me! But I knew just where I wanted to stay…. a beachfront cottage.
If you've spent time in Seaside, Florida, odds are you've noticed a row of tiny, shotgun beach houses peeking out from behind the greenery that lines the beach. For as long as I can remember, I've thought they were the most beautiful, romantic little things ever. I always knew I'd want to stay in one with my husband one day!
After rummaging through the different cottages (they are represented by different rental agencies and while they all have a very similar layout, there are some subtle differences) I booked us a three-night stay at Beachfront 7 and crossed my fingers that it would live up to the years of expectation I'd placed on it. (No pressure!)
Well, friends, I can safely say our stay in a Seaside Florida Beachfront Cottage was everything I'd dreamed it would be and more, and I can't wait to hopefully go back one day! After many, many requests for the details of our stay, I'm happy to share it all with you today!
our stay in a
seaside florida beachfront cottage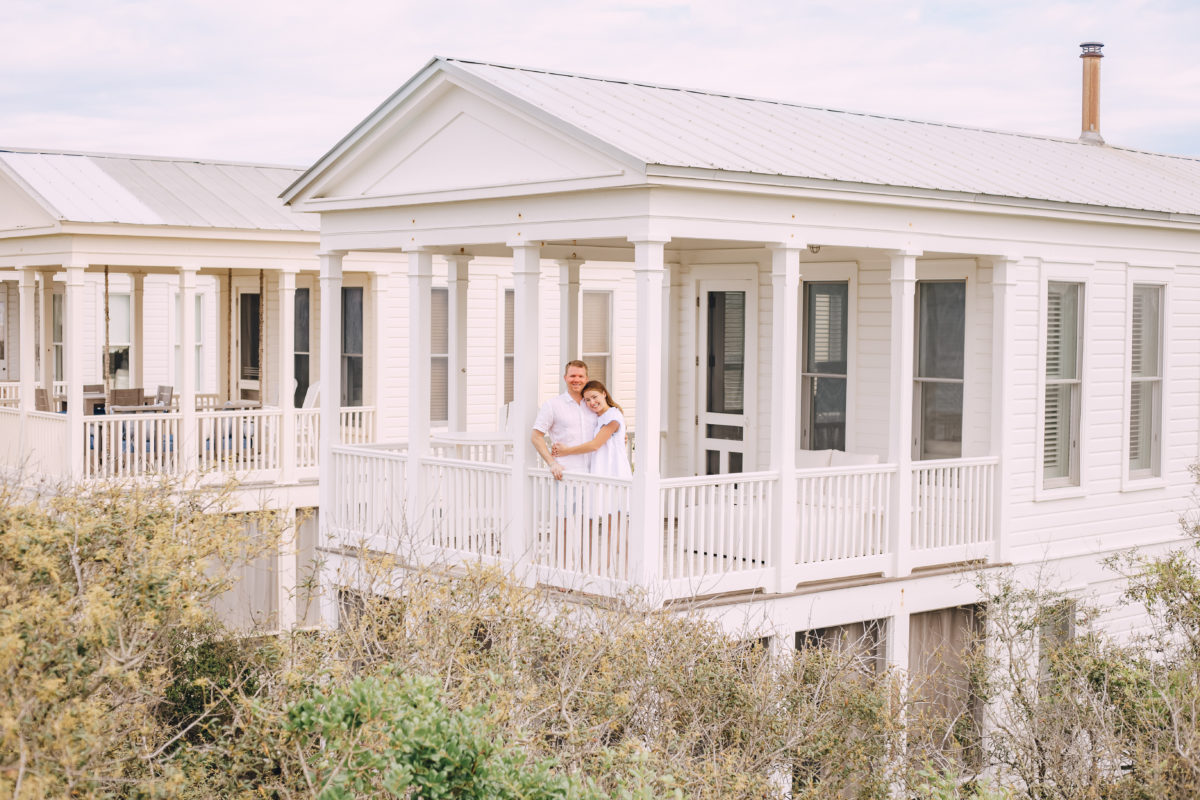 DRESS lake pajamas patio dress | ANDREW'S TOP amazon linen button down | ANDREW'S SWIM TRUNKS striped palm tree swim trunks
As much as I'd love to keep this little piece of paradise all to myself, that wouldn't be fair to anyone. I honestly think this special spot needs to be enjoyed by as many people as possible! So without further ado, here are the details:
There are six little beachfront cottages perfectly located in the middle of town. (I've listed them all for you below!) After looking through the available options at the time, I decided to book Beachfront 7. In a nutshell, I cannot recommend it enough! The listing will give you a good feel for the property, but there have been a few updates. (Think fresh, all-white bedding, an extra cozy couch upstairs, etc.)
It is cozy, quaint, and really all you could need for a weekend at the beach. This particular beach cottage is a few steps away from the beach-access pavilion and just a few minute walk into town… making trips to Bud & Alleys rooftop for lunch or Modica Market for a mimosa to-go easy as pie.
The cottage affords a wonderful view of the ocean from the second floor, which Andrew and I spent plenty of time out on. I knew a beach-front view would be lovely, but I couldn't predict just how magical it would really be! Case in point? It rained the majority of our trip, which is usually a bummer. But since we could cozy up on the couch and read while enjoying the view and the sound of thunder, lightning, and rain, we loved every second. Talk about relaxing!
It also has a large jacuzzi tub on the first story floor. There isn't a view (you're looking out at greenery) but it's nice to have! We especially enjoyed it since we didn't get any time in the ocean due to weather.
When it says this cottage fits two, it really means two. Andrew and I found it perfectly cozy for the two of us, but I wouldn't recommend trying to squeeze anyone else in. The small size is exactly what I love so much about this special place.
Like I mentioned above, we did not stay in the only beachfront cottage. In fact, there are a handful to choose from! Each is a bit different from the others, but they all look like they would provide the same experience Andrew and I loved so much… a romantic, cozy getaway to the beach! Here are links to each beachfront cottage:
seaside florida beachfront cottages
While you're there, be sure to rent bikes (some rental agencies provide them complimentarily) and umbrellas and chairs! (Cabana man is the only provider for Seaside, Florida.) Andrew and I spent all day, every day relaxing either at the beach or on our porch, so while I don't have any activity recommendations for you, I can share where we ate!
Lunch:
Bud & Alleys (we sat on the rooftop – highly recommend)
Dinner:
Basmati's (our ultimate favorite, be sure to get a reservation on the covered porch)
George's at Alys Beach (they don't take reservations so either get there early or be prepared to wait)
Pescado (reservations fill up quickly we weren't able to go this time because the rooftop was closed for a private event)
Other Spots We Love:
Black Bear Bread Co. (go early for coffee and pastries before you hit the beach)
Cafe 30A (a fun spot for a dressy dinner)
The Bay Restaurant (a bit of a drive from Seaside but such a fun, casual vibe and yummy food!)
Angelina's (our favorite pizza spot when we don't want to get dressed up and want to relax)
There are plenty other of eating options in Seaside and on 30A, but these are our tried-and-true favorites. (We've tried just about all of them over the 10+ years we've been going!)
Hopefully that gives you a feel for our wonderful little weekend getaway, and how to recreate it if you're wanting to do the same thing.
It's safe to say that I'm already looking forward to the day we hopefully make it back to a Seaside beachfront cottage. They would be perfect for a honeymoon, a little weekend getaway or even a week vacation if you have the time! And if you're looking for a little r&r, I can't imagine a more perfect place.
Love from the Sunshine State,
Kate