Happy Thursday, friends! Did you know that the Nordstrom Anniversary Sale 2017 goes live to the public tomorrow?! At 2am CST, to be exact! (And the crowd goes wild!!!)
For those of you who don't have a Nordstrom card, it's game time. You've seen all the goods, now it's time to pounce on what you've gotta have! And for all you Nordstrom card holders, make sure that you snatched up everything you wanted from the sale. Tomorrow morning, things are going to sell out like hot cakes!
In celebration of the big day, I wanted to share a special blog post… my favorite beauty buys of the Nordstrom sale! I don't create a ton of beauty content here on Lonestar Southern, and that's mainly because I don't consider myself an expert by any means. I stick to the same makeup routine day after day, and if you ask me to do a dramatic smokey eye I will 100% come out looking like a raccoon.
But, I feel like a lot of us are like that, right? We are super interested in skin care and beauty, but not seasoned pros. And so if you fall into that camp, today's post is for you! I scooped up four amazing beauty buys from the sale this year, that are perfect for the novice-but-interested beauty guru.
I can't wait to show you what I got! Let's get started!
I couldn't even count on two hands the number of bloggers I follow who swear by this product. Over the past year, I've used the Rodan & Fields Lash Boost with  great results, so I know these serums definitely work!
I was enticed by the sale price to try the neuLASH formula, however, since two serums are included at an incredible rate. I'm excited to try and see which I like better! With a ton of amazing reviews on this page, I don't think I'm going to be disappointed.
About two years ago, my old college roommate (love you CA!) introduced me to this magical little cloth, the Makeup Eraser! I know it sounds too good to be true, but it does exactly what it says it does… removes your makeup with nothing more than warm water! And we're talking all sorts of makeup. Even waterproof!
The reason I was so excited to find this in the sale is because I've personally tried and used this product, and am tell you that it works.
Plus, this $20 tool saves you so much on traditional makeup remover wipes! I was a Neutrogena makeup remover wipe girl for forever, but between the harsh chemical feeling and how much rubbing it took to remove the makeup, I started to really hate the discomfort they'd cause my skin. This cloth, on the other hand, is so very soft and gentle. Just toss it in the washer and dryer every couple of days, and you're good!
P.S. Not only is this a great buy for you, it would make a darling stocking stuffer.
Bobbi Brown 'On Trend Eyes & Cheek Collection'
As a self-professed beauty novice, I'm not one for dropping a ton of money on products I won't get wear out of every single day. And that's why I am so excited that this Bobbi On Trend Eyes & Cheek Collection is included in the sale!
For starters, it has both an eye palette and a cheek palette – amazing for saving space and money on makeup products! In fact, the cheek palette includes blush, bronzer and highlight shades!
Secondly, both the eye shadow palette and the cheek palette shades are non-fussy, versatile, and easy to wear day-to-night. The entire left column is perfect for a natural, easy every-day look, and I've already had so much fun experimenting with the darker shades for a little crease action.
I've always been a huge fan of Bobbi Brown for her approach to makeup… "Makeup should enhance the natural colors you see in your face." That's exactly what this palette gives you… a natural, enhanced look. Can't recommend it enough!
GloPRO® Microneedling Regeneration Tool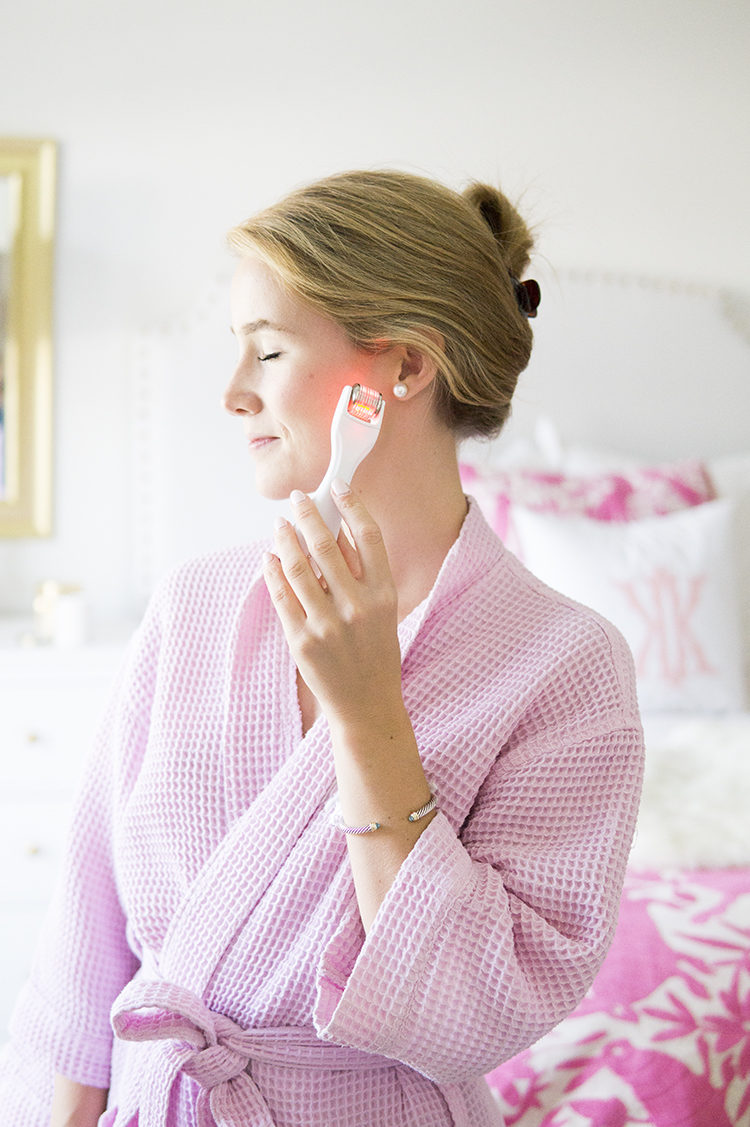 Apparently I'm late to the party on this little tool… the GloPRO! I began hearing buzz about it around a month ago, and have been curiously doing research ever since. If you are wondering "What on earth does this crazy looking thing do?" let me share a little blurb!
"As the surgical stainless-steel microneedles pass over your skin, the rejuvenation process begins immediately as your cells respond to thousands of imperceptible microchannels by creating new collagen and restoring skin's volume."
This painless, elegant tool stimulates collagen production in your skin, leading to a firmer, more luminescent complexion. Even though I'm still in my early 20s, I love finding new ways to take care of my skin since it's the only one I've got! I've heard amazing things about the GloPRO, and used it for the first time last night. I can't wait to keep y'all updated on my experience with it! To read a ton of reviews, scroll down on this page!
There you have it, friends! If you've used any of the products above, please let me know in the comments below! I always love reading y'alls input, especially on beauty find like this! Be sure to check my Instagram Story later this evening, as I'll be doing a second Nordstrom Anniversary Sale try on in honor of the sale going public tomorrow! Who's excited?
Love from Texas,
Kate