The title says it all, y'all… my sister, Steele, is engaged! And I am still giddy over it. Safe to say, my family could not be more thrilled to welcome Brantley into the fold. Let the fun begin!
This past Saturday, Andrew and I secretly flew to Dallas to help Steele's now-fiancé pull off the most wonderful surprise. It was a whirlwind of a weekend, and I've been promising to share the details soon. I know many of you have seen my sister pop onto the blog here and there, so it only feels fitting to share this occasion with y'all. With permission from the happy couple, here is a look into their special day!
the proposal
My sister's fiancé, Brantley, planned a beautiful, personal and sweet proposal at a beautiful park in our neighborhood. With the help of two dear friends, he convinced Steele that they were going to a 30th birthday party at the gazebo!
Meanwhile, I had donned a disguise (Brantley ordered me the blonde wig… can you even?!) and camped out behind the gazebo to film and photograph the entire thing. This little role gave me so much anxiety that my hands were shaking as I waited for them to arrive. Let's just say I have a whole new respect for what guys have to go through!
I'll never forget crouching in the bushes watching their footsteps get closer and closer through the lattice surrounding the gazebo. Steele was, naturally, confused about the beautiful bouquet of flowers (Brantley's mother had arranged it for her – how sweet!) and as to why no one was there. That's when Brantley took a knee and asked her to marry him!
Cue all the happy tears. Here are a few photos from that happy moment!
STEELE'S DRESS cleobella magdalena dress // STEELE'S SHOES golden goose sneakers // MY SHOES clarita sneakers
the after party
After it was safe to appear, I jumped out and accidentally scared Steele to death. She didn't realize it was me until I was just a few feet away from her! That wig paid off. ;) Andrew had been filming the entire thing from the car, and joined the party as well!
Then, Brantley told Steele it was time for a second destination… a party at his brother and sister in law's house!
I have to jump in here to brag on my cute mama. She had purchased a couple of cute white dresses over the past few weeks and had them steamed and ready in case Steele showed up in something she didn't feel perfect in for the party. Last minute, I also decided to bring a pair of heels for the same reason. In the end, Steele just swapped out her tennis shoes for some fun gold heels and we headed to the celebration.
Waiting for the happy couple just a few streets over was an assortment of friends and family. The next few hours were spent mixing, mingling and toasting the future Smiths! Here are a few photos!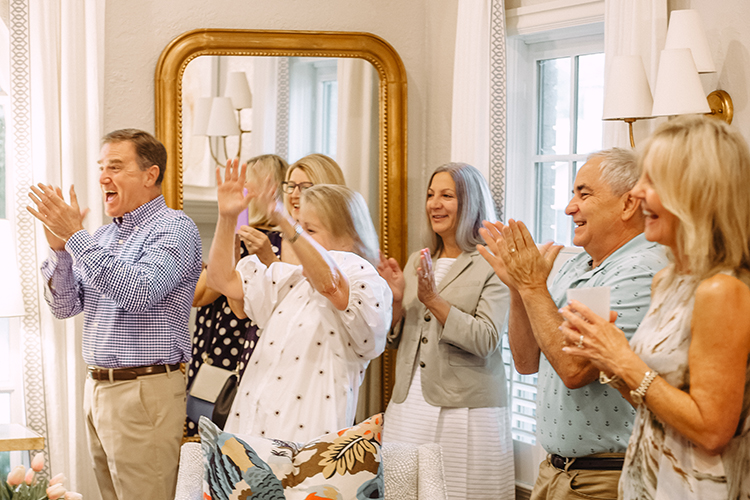 STEELE'S DRESS cleobella magdalena dress // STEELE'S SHOES loeffler randall heels // MY DRESS crosby by mollie burch napa dress // MY MOM'S SHOES natural woven platform sandals // MY EARRINGS gold lisi lerch florall earrings
A few fun party essentials? Plenty of chick fil a nuggets (they never disappoint and are easy to pick up and munch on in a group), cookies from One Pink Cookie, a beautiful acrylic framed photo of the newly-engaged couple and personalized cups! (I actually put these together super last-minute using a template from Canva.)
It was the perfect way to kick off this new season!
the brunch
After such a crazy, fun night, I wanted to get both families together to be able to spend time chatting with and celebrating the happy couple in a smaller, quieter setting. We put together a little brunch at Le Bilboquet, complete with a few happy floral arrangements from the incredible vendor who did my wedding flowers, The Garden Gate, for a perfect Sunday morning.
It was so special to be able to spend more time with the two families, talk through all of the excitement of the night before and dream about the wedding ahead! (Let's just say… it's going to be amazing.) Highly recommend doing something like this the day after a proposal.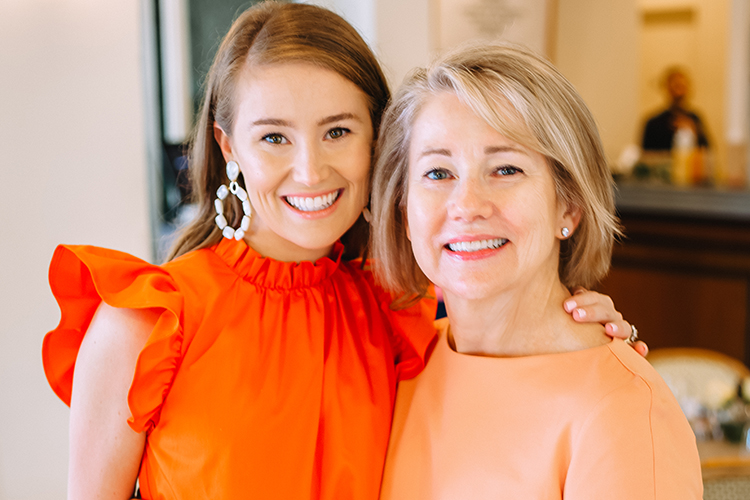 STEELE'S DRESS sue sartor paloma dress // MY DRESS tiered swing dress // MY EARRINGS liza yates spellbound earrings (use code LONESTAR for 15% off)
I can't tell you just how thrilled I am for my baby sister. Our family is now "complete" with the addition of Brantley, and I so look forward to the memories the six of us (Mom, Dad, Steele, Brantley, Andrew and I) will create in the years to come!
And want to know a fun fact: Andrew and Brantley were actually friends in the same grade at our high school growing up. Who would have ever thought they would grow up and marry this set of sisters! :)
I wanted to extend a big thank you for the sweet comments and messages y'all have been sending in for Steele. I always, always appreciate your kind words, but they somehow manage to mean even more when meant for someone in my family!
I also wanted to give you a heads up: I suspect I will have lots of wedding content to share with you in the coming months! Steele has proclaimed she wants to be very hands off throughout the process and leave the majority of the planning to me and my mother. (Ok, twist my arm!) She is my first and only sibling, and so my wheels are already spinning on how to make this engagement season the most special it can be. Any and all ideas are welcome!
My mom and I used to joke about what a shame it is that you can't ever use the immense amount of knowledge you gain from planning a wedding once it's over… but now we will definitely be putting all of that know-how to use! I still get questions from many bride-to-be's about the ins and outs of the process, so I hope y'all will enjoy this new little adventure. If you would like to see more posts about my wedding, click here!
Love from the Sunshine State,
Kate