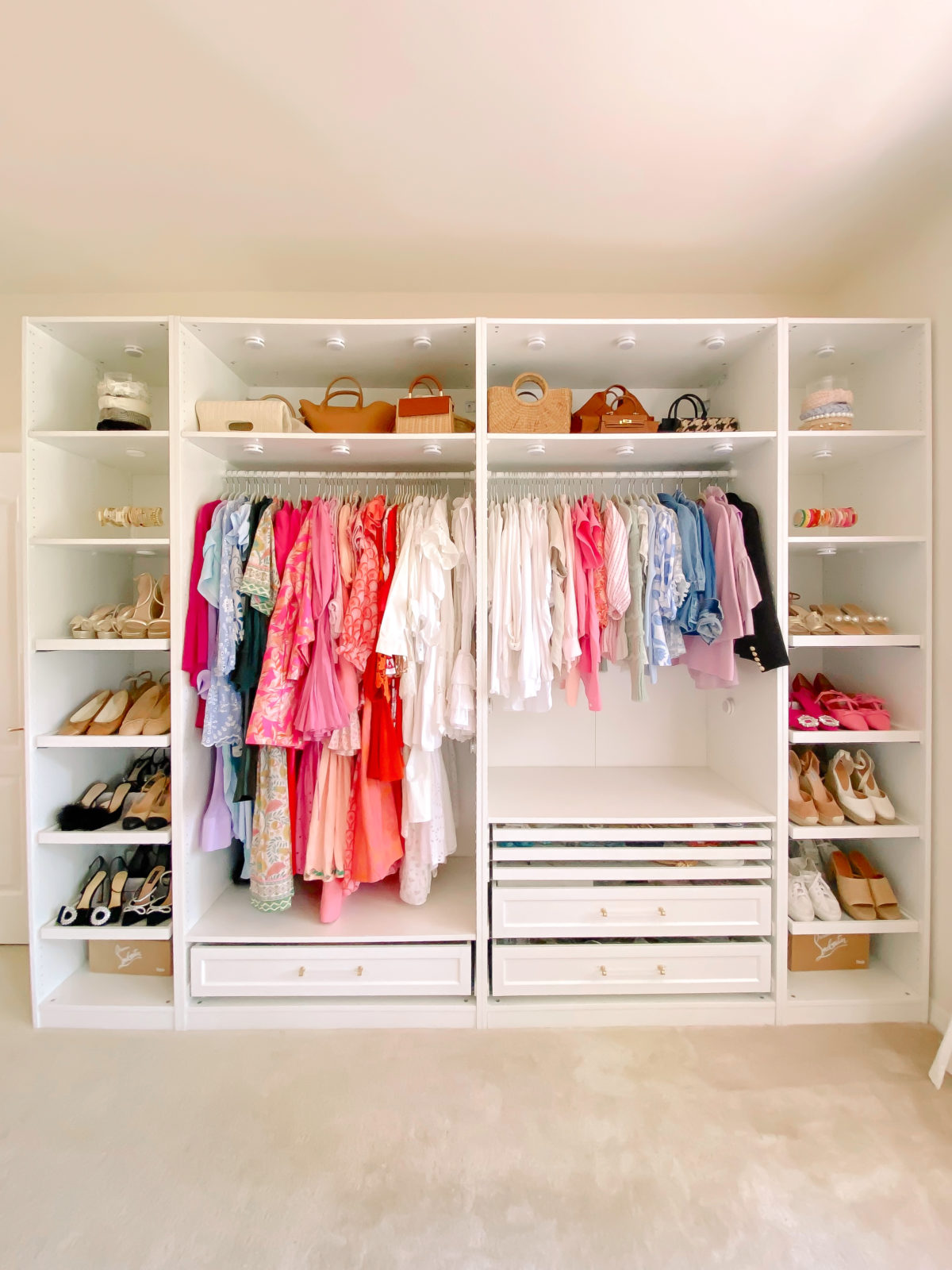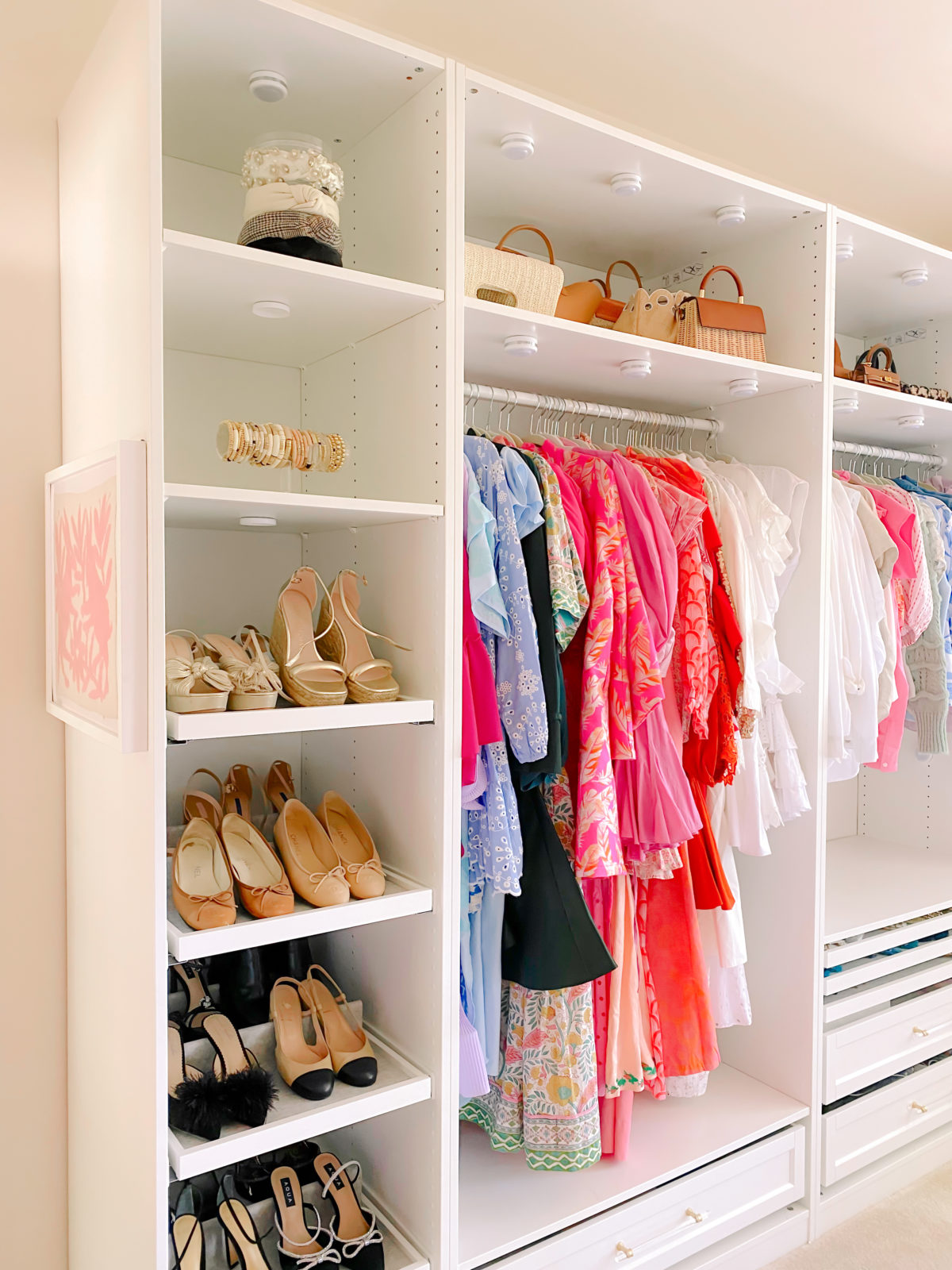 My IKEA pax wardrobe is without a doubt one of my favorite things in my home. After fruitlessly exploring different clothing storage options and ideas, I finally decided to "pull the trigger" on this affordable, build-your-own system and convert a spare bedroom into a "cloffice." (Closet-office.) Let me tell you… I only regret that I didn't do it sooner!
Before I finalized my own IKEA pax wardrobe design, I spent a tremendous amount of time scouring the web, Pinterest and Instagram for layout ideas and inspiration. After all, I wanted something beautiful but also perfectly functional for my space and needs.
The total cost of this IKEA pax wardrobe system was $1,120. While it was definitely an investment, it was an incredibly cost-effective purchase compared to other closet systems! I managed to save even more money by building the closet myself. (I love projects like this!) It did take me a couple of days, but if you're looking for something easier, many cities offer the option to hire someone to install it for you via TaskRabbit.
I can honestly say I'm so delighted with what I came up with, and after living with this closet system for two years, am happy to recommend it fully.
If you're considering installing an IKEA pax wardrobe in your own space, I hope these details are helpful!
build this ikea pax wardrobe
view my closet in the IKEA pax planner:
click HERE
select the "OPEN DESIGN" button in the top right corner
insert this code: JDNJZW
links to my exact closet:
Pax Wardrobe Frame (2) // 39 3/8″ x 22 7/8″ x 92 7/8 "
Pax Wardrobe Frame (2) // 19 5/8″ x 22 7/8″ x 92 7/8 "
Komplement Drawer with Framed Front (3) // 39 3/8″ x 22 7/8 "
Komplement Pull-out Tray (3) // 39 3/8″ x 22 7/8 "
Komplement Pull-out Tray (8) // 19 5/8″ x 22 7/8 "
Komplement Shelf (4) // 39 3/8″ x 22 7/8 "
Komplement Shelf (4) // 19 5/8″ x 22 7/8 "
Komplement Drawer Liner (3) // 35″ x 20 7/8 "
Komplement Shoe Insert (16) // 19 5/8″ x 13 3/4 "
extra features
lighting:
One fun and easy hack to incorporate into your IKEA pax wardrobe is the use of these puck lights from Amazon! They are battery-operated, so the pro is that set-up is a breeze. No wires or electrical things to try to figure out! (And they can be operated via a remove!) The con is that replacing batteries for each light is time-consuming and, to be quite honest, a bit of a nuisance. But I loved cost-effective pizazz it added! Shop them here.
drawer pulls:
Another way to customize your IKEA pax wardrobe is by adding drawer pulls. I settled on these small acrylic pulls for the jewelry trays and these larger acrylic pulls for the larger drawers.
To design your own IKEA pax wardrobe system, click here!
Love from the Sunshine State,
Kate