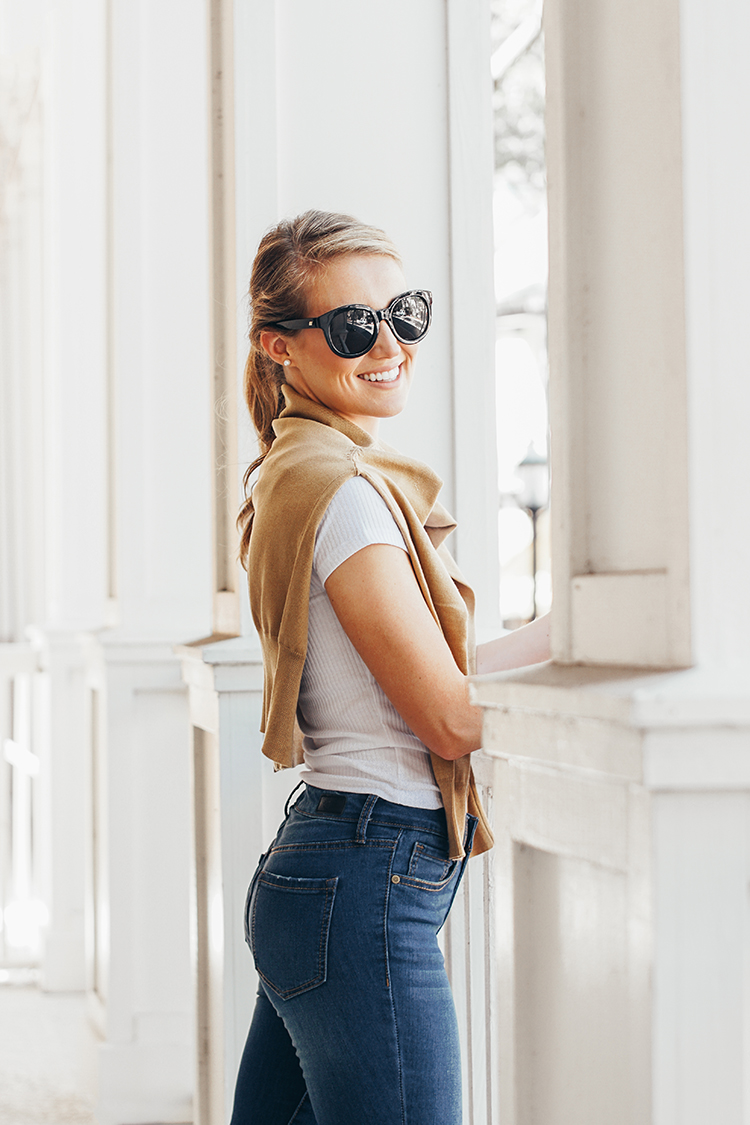 SHOES white sneakers with leopard stripe | TOTE black tote | JEANS dark skinny jeans | SUNGLASSES le specs "together again" sunglasses | TEE white tee | CARDIGAN camel cropped cardigan
Happy Sunday, friends! It's rare I jump on Lonestar Southern over the weekend, but I'm sitting in the airport on my way home from Austin, TX, and had a look I just couldn't wai to share!
One question I've been getting lately is how I'm planning on changing my style and wardrobe to adapt to Florida heat. Fall is one of my favorite seasons to dress for, and while I wish I could be cozied up under scarves and sweaters galore, I still want to be able to translate that mood in the rather, ahem, warm climate we have for most of the year down here.
My solution? Wearing classic fall colors and silhouettes in lightweight layers, and adding a pop of something seasonally on-trend that doesn't have me breaking out into a sweat or breaking the bank. Exhibit A: Adorable sneakers with a dash of leopard (that are under $20!!!) paired with dark wash jeans and a loosely draped cardigan for a layered up look. Today. I'm so excited to share this affordable ensemble that does just that in partnership with Walmart!
Classic pieces don't have to break the bank, as proven by these budget-friendly fall finds from the Walmart trend section. If you haven't checked it out yet, I think you'll be pleasantly surprised by this curated selection of on-trend pieces. Let's just say, the leopard assortment is spot on! (Pun intended.)
That's where I found the star of today's show… these adorable leopard sneakers that are under $20! I kid you not, I am in love with these and can't shut up about them. They are so comfortable and look so expensive. Best yet, they give any ensemble a subtle taste of fall without being overwhelming. I'm not the only one in love… check out the reviews here!
I'm also obsessed with these sunglasses that I mentioned in Friday's post. So chic, right? And also a great buy at under $50!
I have a feeling I'll be wearing variations of this fall uniform all season long. It's such a great, classic look you can play around with! Switch up the color of the tee and cardigan for a fresh feel, or try pairing these sneakers with a cute little dress. (The combination of the two is a look I'm loving lately!)
Either way, run, don't walk to grab these sneakers from Walmart. I'm about to order a second pair just to have on hand!
Love from Texas,
Kate
Thank you, Walmart, for sponsoring this post.