I'm waiting for our wedding photos to be delivered before I begin a full wedding deluge (thank y'all for being patient with me!), but I thought it would be fun to share a fun detail of Andrew's and my big day… my bridesmaid gifts!
I knew I wanted a few special pieces to thank each of my girls for standing by me, and between the pretty pink pajamas, the monogrammed accessory cases and the pair of earrings I designed for them (more details below!) I absolutely love how the gifts turned out. Best yet, I think my girls did too!
Start scrolling for all of the fun! I'll have the details below.
my bridesmaid gifts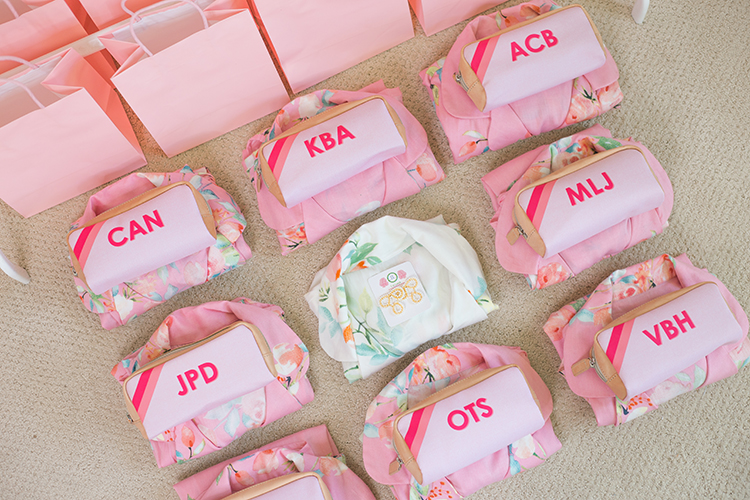 One of the most unexpectedly difficult "checklist" items during the wedding planning process was finding a pair of adorable pink pajamas for my bridesmaids to wear while we all got ready. I knew I wanted PJs instead of robes (I just find them easier to move around in!) and was hoping to find a set in the soft, baby pink I was doing my wedding in. It turned out to be quite the tall order, y'all! I must have ordered four or five different sets from everywhere from J.Crew to Old Navy, all to no avail.
After a few fruitless orders, I finally came across the Etsy store Silk and More during one of my crazed online searches, and remember thinking it was too good to be true… an adorable floral print that was available in tons of color options, a huge array of sizing options, an affordable price point and a delivery window that worked for my date? I was honestly skeptical, but placed the order for the "Notched Collar Style PJ" and crossed my fingers it came through!
And did it ever. Once the order was submitted, I filled out an online form with each bridesmaid's name, size and… wait for it… height! Turns out, this Etsy store makes each pajama set not only according to size, but to height specifications as well.
A few days before my wedding, the pajamas arrived neatly packaged and as pretty as can be. Each set had a tag with one of my bridesmaid's names on it… already labeled and ready to go!
I can't tell you how excited I was opening these PJs. It felt like a huge risk since I'd never heard of this store and they ship from India, but they turned out even better than I had hoped and were one of the most affordable options I had found by far! All of my girls loved them… they were comfortable, cute, and not too skimpy like some sets can be. I even ordered a pair in a darker pink for my mother and mother in law as well. Let's just say my mom and I can't wait to order more! All in all, I would 1000% recommend.
If you're curious, I chose the color "Dusty Pink" for my bridesmaids, "Watermelon Pink" for the mamas and "White" for myself! You can shop these wedding day pajamas here.
I've been keeping a secret, friends. A couple of months into wedding planning, I nearly dropped my phone when I read a certain email that had just come through. One of my all-time favorite earring lines, Lisi Lerch, wanted me to design a pair of earrings for my bridesmaids!
I knew I wanted to create a statement earring that was tasteful and elegant all at once. Something that, unlike a bridesmaid dress, my girls would enjoy wearing time and time again! After lots of ideas and a few different sketches, not only had I designed my dream pair of bridesmaid earrings, but I had accidentally created a collection. Oops!
I'm thrilled to let you know that in exactly one week, my Lisi Lerch bridal collection will be going live! I'll be sharing more sneak peeks of the styles all this week, so stay tuned. :) This has been one of my most exciting and fun projects to date, and I can't wait to share it with you!
No matter the occasion, I've always felt there are few things more special than a monogrammed gift. Naturally, I turned to one of my all-time favorite brands, Barrington, for just the thing!
Y'all know I love all of their pieces but felt like the Highclere Accessory Case was the perfect way to present each girl with something personalized and useful. These pouches can be used for jewelry, makeup, catch-alls for a purse and so much more. Perfect for any girl on the go, in my opinion!
I filled each case with pink crinkle paper and laid the earrings right on top. It was so fun seeing each girl ooh and ahh over her case, only to unzip it and find yet another surprise!
Another fun element of this gift was getting to incorporate the "pink theme" yet again. I had so much fun playing around with all of the different color combinations (as I always do) and finally landed on a Blush Chambray background with a Rose-Geranium stripe. Let me just say, these handy little cases got rave reviews from all parties involved!
Well, y'all, there you have it! Putting together these gifts for each of my girls was such a fun and even therapeutic part of the wedding planning process. What's better than shopping for your best friends? The Friday before my wedding, at my bridesmaids' luncheon, I presented each girl with their gift. It was such a fun way to kick off the weekend!
My advice to putting together the perfect bridesmaid gift? Think "personal" and "practical" and at the end of the day, it truly is the thought that counts. That is what each bridesmaid will appreciate more than anything!
I can't wait to share more wedding details with you soon! What are you dying to hear about next?!
Love from Texas,
Kate