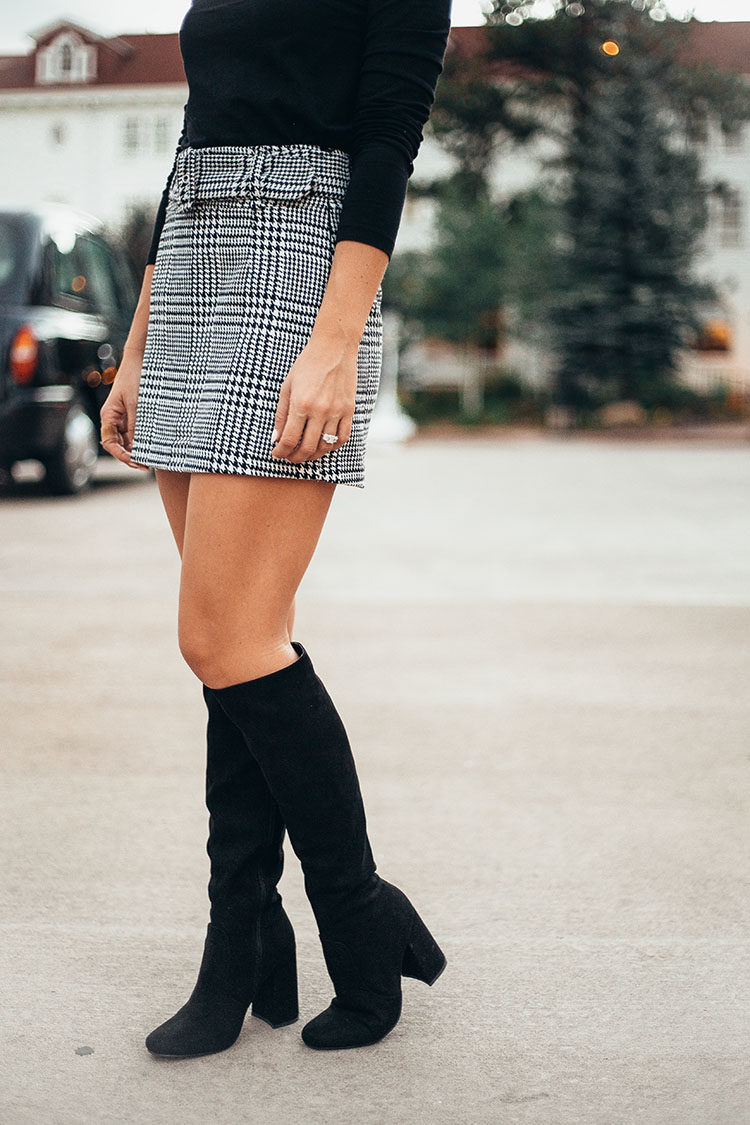 SKIRT   glen plaid miniskirt (wearing size S, $19.90)   |   TOP   black turtleneck ($9.90)   |   BOOTS   faux suede boots (under $50, fit true to size)   |   SUNGLASSES   black rayban sunglasses
One of my favorite things about fall is the return of plaids, checks and ginghams galore. There's something about these rich patterns that make any ensemble feel a bit cozier, and a bit more classic!
When I came across this skirt in a classic glen plaid (and just $19,90 at that) it was an instant "add to cart." This is one of those pieces you can wear in warmer weather white a lovely white blouse and ballet flats, and then transition for cooler temps with boots and a chic turtleneck.
As I was looking up this skirt just now to get the link for y'all, I realized I had styled it exactly the way the product model had! Great minds? :) In all seriousness, it doesn't get more "classic fall" than turtlenecks, plaids and suede boots. I think that's why I love this ensemble so much!
Something fun thing to note? This entire look is from Forever21! I say this all the time, but I genuinely love shopping online there. If you're looking for great fall pieces at budget-friendly prices, skip the overcrowded, overwhelming and understocked store experience and shop from the comfort of your own computer. It's a game changer, trust me! :)
Love from Texas,
Kate
P.S. I've been talking y'alls ears off about these boots, but let me tell you again how great they are. They're under $50 but look way more expensive than that, and I've been pairing them with everything recently! I own them in black (seen here) and brown (seen here and here), and am happy to report that both colors are still fully in stock. Some sizes are starting to get low in stock, though, so don't delay!