I always get a bit sad to see summer go, and the one thing that manages to make me excited about this in-between time of year is the Lilly Pulitzer After Party Sale! (To see allll of my posts covering the Lilly Pulitzer After Party Sale, click HERE.)
Over the past few weeks, I've been getting questions from y'all about the details for this summer's sale and am so excited to finally reveal them!
Mark your calendars… the Lilly Pulitzer After Party Sale will start in stores from September 8th-9th and online September 10th-12th! Read below for all of the details!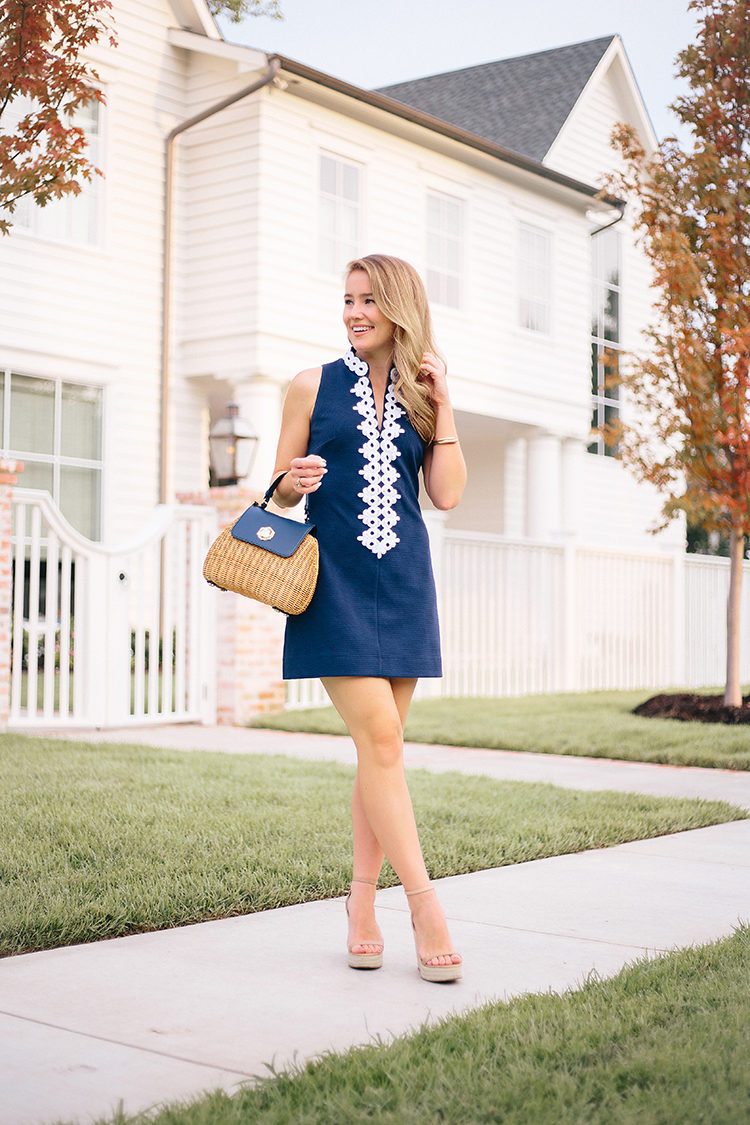 DRESS   navy lilly pulitzer callist a shift dress (29 reviews with a 4.8 rating y'all, I love this dress!)   |   EARRINGS   gold hoops   |   BANGLES   gold bangles   |   PURSE   straw bag (old Draper James style, similar linked)   |   WEDGES   steve madden survivor wedge
Lilly Pulitzer After Party Sale
W H E N
8 AM(ish) EST on Monday, Steptember 10 – 11:59 PM EST on Wednesday, September 12
W H A T
As many of you know, Lilly Pulitzer NEVER goes on sale but for one exception… the After Party Sale! You'll find tons, and I mean tons of prints and styles included. It's crazy! I'm not kidding. Every year the site gets flooded with traffic, people lose their minds, it's big-time y'all.
B E S T   T I P S
SET UP AN ACCOUNT NOW // Having an account allows you to click "purchase" right away and not have to mess with inputting your shipping and payment details once you're signed in. When it comes to shopping this sale, time is of the essence. Things sell out literally in the blink of an eye, so you save valuable seconds! Click HERE to make yours.
PREPARE // Get up early, make sure you're signed into your account, and start refreshing the Lilly Pulitzer page during the 5-10 minutes leading up to the sale. That way, you're guaranteed to get in the earliest line position as possible!
DON'T FRET // As in years past, the Lilly team has confirmed with me that there will be a virtual waiting line to access the sale. This allows everyone to shop without the site crashing. I know it can be discouraging to be #314523 in line, but hang tight and don't worry. It usually moves pretty fast!
USE FILTERS // Once you enter the sale, you'll see that you can filter the results by different criteria. The first thing I recommend you do is to filter by your size. I've wasted time in the past by failing to do this, and clicking on lots of items only to see my size wasn't available. Lesson learned! You can also use this for prints.
CHECK OUT, YOU'RE OUT // Keep in mind that once you check out, you lose your spot in line. I made the mistake last year of finding one item I  loved and checking out right away for fear that it would sell out if I didn't. I didn't realize that kicked me out of the site! I had to get back in line and wait another hour before shopping the rest of the sale.
ITEMS ARE FINAL SALE // Do keep in mind that you can't return any purchases from the sale. That's why I recommend going to a Lilly Pulitzer store and taking note of your size in different styles… for example, I wear a 00 in Lilly Pulitzer dresses and a 2 in Lilly Pulitzer skirts and shorts. This ensures you'll get a size that fits!
NEW STYLES WON'T BE CONTINUALLY ADDED // In previous Lilly Pulitzer After Party Sales, new styles would be added continually. This year, no additional product will be added to the sale once the sale goes live 

on Monday

, September, 10th. The good news is you'll know right away what's included, and stock is expected to last this year! Yippee!
S N E A K   P E E K
I was able to get a hold of 9 pieces that will be included in this year's sale… see below!
I am so excited I can hardly wait! Are you shopping the sale this year? And if so, what are you hoping on buying?!
P.S. If you have any questions about the sale, leave them below!
Love from Texas,
Kate