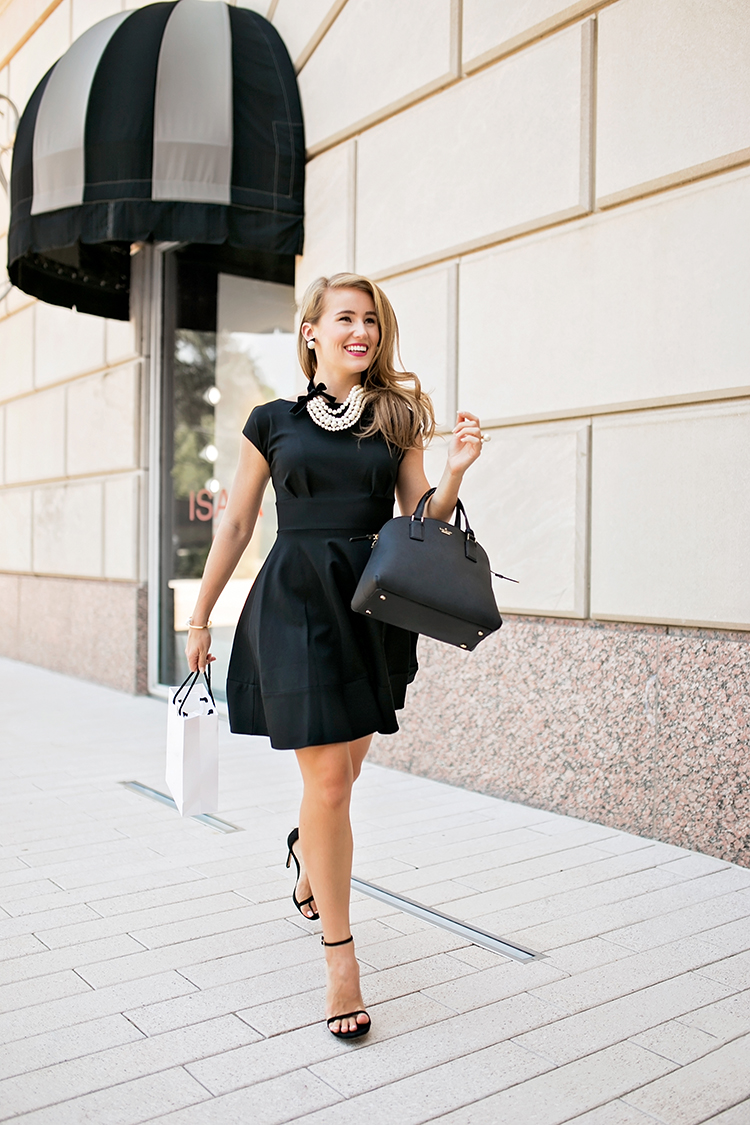 NECKLACE   girls in pearls kate spade necklace c/o   |   EARRINGS   girls in pearls drop stud kate spade earrings c/o   |   BRACELET   golden girl pearl kate spade bracelet   |   RING   girls in pearls kate spade ring c/o   |   DRESS   ponte fiorella dress c/o (also comes in navy)   |   BAG   kate spade cameron street lottie c/o
Pearls… the one accessory you'll hardly ever find me without. As a young girl, I vividly remember being given a single pearl displayed on a beautiful, delicate gold chain. My cousin was getting married, my sister and I were flower girls, and I absolutely could not have dreamt up anything more magical if I had tried. That is one gift I treasure to this day and one which began what has turned into a life-long affinity for the timeless, classic, enduring pearl token.
In fact, if you take a quick scroll through my blog posts, you'll see that, by and large, my most-frequented accessory is a ladylike pair of pearl earrings. As my dear friend and mentor, Jules, says, there's something about a pretty pair of pearl earrings that immediately brightens up the face. I have found this to be true time and time again. From running around town finishing up errands to attending formal affairs in floor-length gowns, I never feel quite as classic and lovely as I do when donning pearls.
This season, Kate Spade has captured the timeless beauty of the pearl while infusing statement-worthy impact by created a collection of absolutely beautiful pieces I'm so excited to share with you today! One characteristic I adore about the Kate Spade look is the fresh, personality-filled take on classic silhouettes and styles brought into every collection. The new accessories collection embodies that perfectly!
Take this decadent pearl necklace, for example. Far from looking like it was resurrected from a stuffy old jewelry box, this beauty exudes old-world glamour in a fresh, modern way. And don't miss out on this open-hinged cuff and this pearl ring… the delicate nature of the pearl is contrasted by the size in a combination that works effortlessly.
My favorite piece of the entire collection, however, is this pair of lovely pearl drop studs. As statement earrings are all the rage this season, I love that these make a mark while being the embodiment of timeless beauty. It's amazing how one little accessory can elevate your look to an entirely new level!
Suffice it to say, I fully intend on putting these pieces on heavy rotation this fall and winter. From ensembles comprised of cozy sweaters and feminine ballet flats, to wedding guest looks and formal fundraisers, being a girl in pearls has never felt so glamorous… or fun!
Love from Texas,
Kate
Photography by Angie Garcia
Thank you, Kate Spade, for sponsoring this post.