Spring in New York City is one thing I haven't been lucky enough to experience, but oh… how I've daydreamed! It seems the city is able to draw something magical out of each and every season of the year. From skating in Rockefeller Center during Christmas, to lining the streets for the Macy's parade on Thanksgiving, to watching the ball drop in Times square on New Years Eve, there's no end to the newfound festivity found with each change of the month.
While spring may not host a myriad of calendar holidays of it's own, it's a celebration in and of itself. Blossoming flowers, pleasant breezes, longer days… I find myself looking up flights for this weekend just thinking about it.  And when I think about what springtime in New York is to me, in a nutshell? Window shopping in a sundress! There'd be no better way, in my opinion, to spend a picturesque spring day in the city than twirling down Madison Avenue, peeking in on the newly-revealed window displays, in a gorgeous, springy ensemble to match.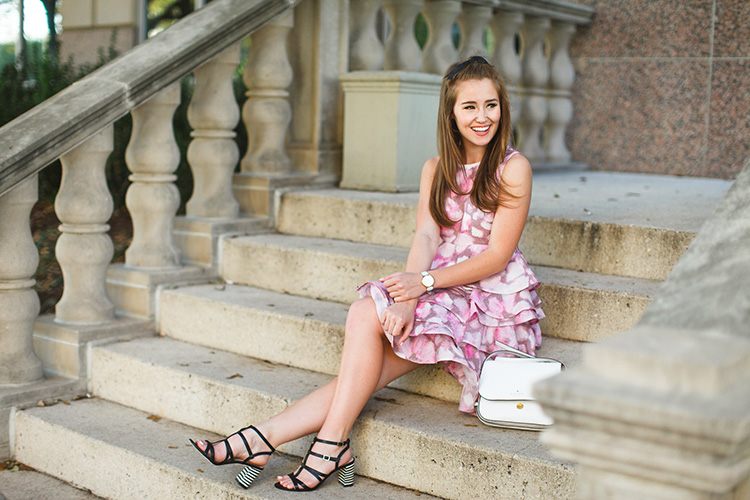 DRESS   cotton candy yasmine dress (wearing size 00)   |   SHOES   striped annmarie heels   |   SUNGLASSES   carlissa sunglasses   |   BAG   orchard sreet penelope crossbody   |   WATCH   hello sunshine metro watch
The spring line from Kate Spade embodies the same effortless, beautiful breeziness that I find so enchanting about New York in the spring. Flirty silhouettes, feminine palettes, fresh details… it's as if all of my mental images surrounding the season have been translated into wearable pieces.
I couldn't dream up a more NYC-worthy ensemble than this stunning, tiered dress paired with a glam pair of shades. Something about the movement of the dress, the swish and the flounce, makes it a little too much fun to wear! Strapped into these darling striped heels, you're set to leave quite an impression on each pedestrian you pass. And can we take a second to soak in what is this perfect white bag? The loveliest size for stashing everything you need, including a couple sugary snacks to keep that shopping momentum going strong! (And of course, I'm obsessed with the tassel detail.)
There is no time like the present to get outside and enjoy the gorgeous weather brought about by spring! My advice? Even if you're not in NYC, get all dolled up in your favorite sundress and take to the streets. Iced coffee in hand, you've set the stage for a magical spring afternoon of your own.
Love from Texas,
Kate
Thank you, Kate Spade, for sponsoring this post.
Photography by Stephanie Drenka.