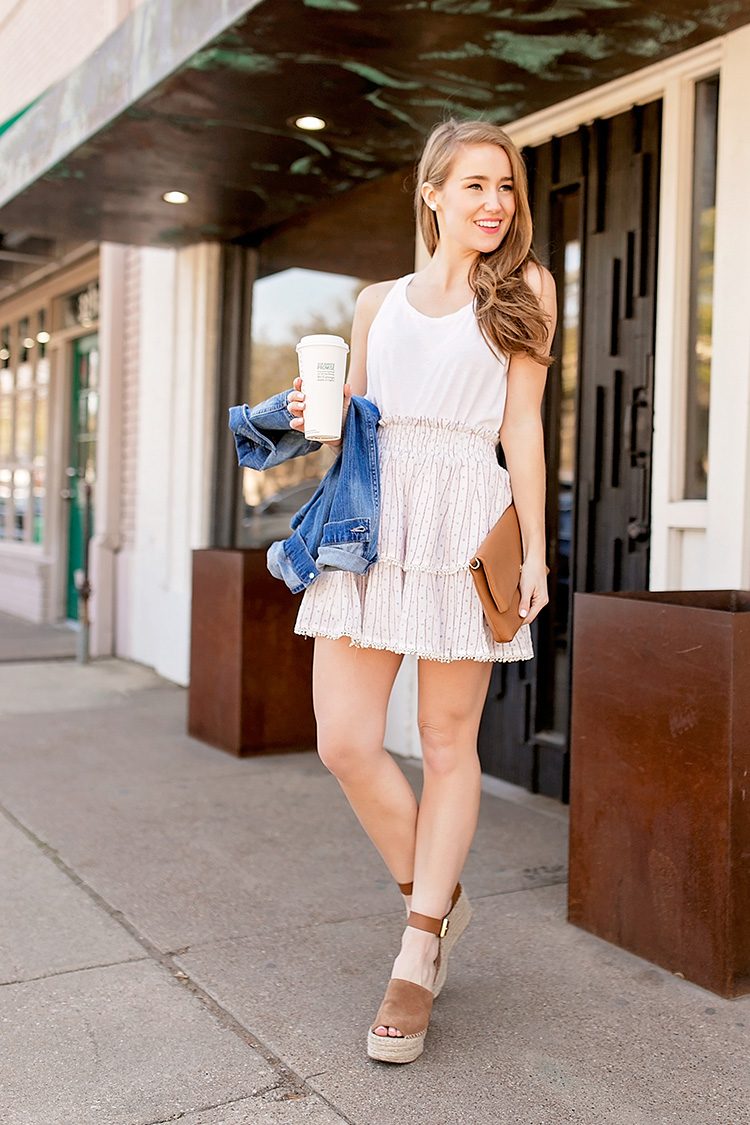 SKIRT high waisted mini skirt | JACKET jean jacket | TOP white tank | SHOES suede ankle strap wedges | CLUTCH tory burch clutch | EARRINGS pearl studs | LIP COLOR pink nouveau
Am I the only one starting off today with a bit of a stomach ache? #toomuchvalentinesdaycandy #noregrets
I had so much fun reading y'alls feedback on yesterday's Valentines post. Thanks for being so receptive to something a little different! (And as always, if you ever have any specific blog post requests, please shoot me an email at [email protected])
Today, we're back to our regularly scheduled outfit posts, and I have to say that I have a lot of love for this one in particular! I'm wishing away the cold weather in hopes of putting this ensemble on heavy rotation these coming months.
One piece of clothing I don't own a whole lot of is skirts. I really can't even tell you why… but I can tell you that after purchasing this cutie, my eyes are now peeled for others! There's something so effortlessly feminine about a high-waisted skirt. This one has just the right amount of flounce to keep it fresh and fun while also incredibly wearable! I love it paired with a simple white tank and wedges. Switch out the heels for sandals for a comfortable, chic spring break/study abroad look!
I also can't recommend purchasing a great jean jacket enough as we head into these tricky transition months between winter and spring. To get use out of your favorite spring and summer clothing before the real warm weather sets in, throw one over a favorite sundress, or an ensemble like this! I snagged this one at H&M recently, and highly recommend!
Congrats on making it halfway through the week, friends! Almost there! :)
Love from Texas,
Kate
Photography by Angie Garcia