There are things I like. There are things I love. And then there are things I LOOVVVEEE. (Yes, I prefer using all-caps to express emotion on a regular basis. You should read my texts. Most words now autocorrect to their all-caps form. It's a problem.) This cute little cape, y'all, is one of those LOOVVVEEEs. Because it is such a simple, classic piece that automatically takes any normal jeans + blouse combination to the next level. And that's saying something… because the striped peplum number I'm wearing underneath it can definitely hold it's own!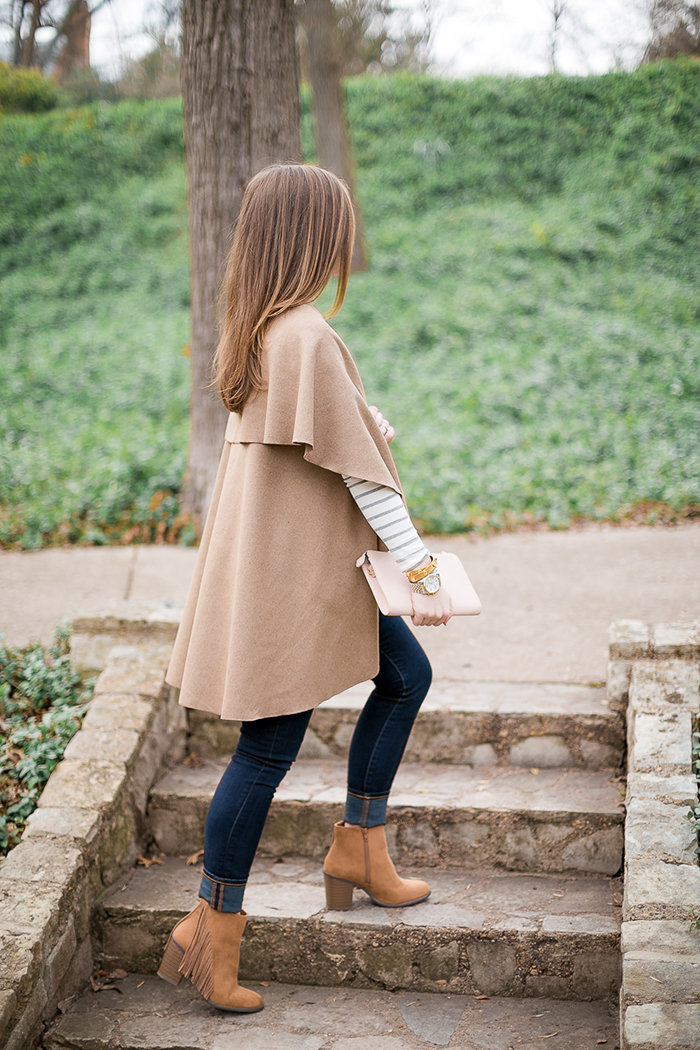 cape   CAMEL CAPE ($15, comes in black & grey too!)   |   shirt   STRIPED PEPLUM TEE   |   shoes   FRINGE BOOTIES (from Forever21!)   |   earrings   JULIE VOSS HOOPS (size XL)   |   necklace   INITIAL NECKLACE   |   clutch   BLUSH CLUTCH (old Tory Burch, similar linked)   |   watch   MICHAEL KORS WATCH   |   bracelet   GOLD WRAP BRACELET
Another fact that makes it a LOOVVVEEE? How about it's price tag of $15.00. Yes, you read that right. No, this is not a drill. Fifteen. Freaking. Dollars. Not to mention, it also comes in a gorgeous grey and black! I know what you're thinking. Do I get all three? And my response to you is, did you really just ask yourself that question? (The answer is YES. All-caps YES.)
Whenever I post an item from SheIn, I get a lot of questions about the quality and "legit" factor of the brand. And while I can't speak to the quality of the whole site, I've developed a strategy that's resulted in great buys (like this one!) for me. I only consider products that have a "style gallery" with them. (To see if a product has a style gallery, scroll down past the initial info!) Since some of the product photos can be misleading, I've found this allows you to get a look at what the actual piece from SheIn looks like! I try to steer clear of intricate patterns and fabrics that look too good to be true.
As for this piece in particular, I give it not one, but two stamps of approval! And five stars on top of that. It's one-size, but because of the simple cut will fit just about anyone! Even my mother tried it on and loved it. Needless to say, we can't wait to get the other two colors in our hands!
Love from Texas,
Kate
Thank you, SheIn, for sponsoring this post.
Photography by Dallastyle