The day after Christmas, I view the remaining months of winter as a different season altogether. For me, deep, dark tones are on rotation through the end of December, but the new year leaves me longing for more springy hues! The natural solution? Staying warm in as many bright colors and sweet pastels as possible.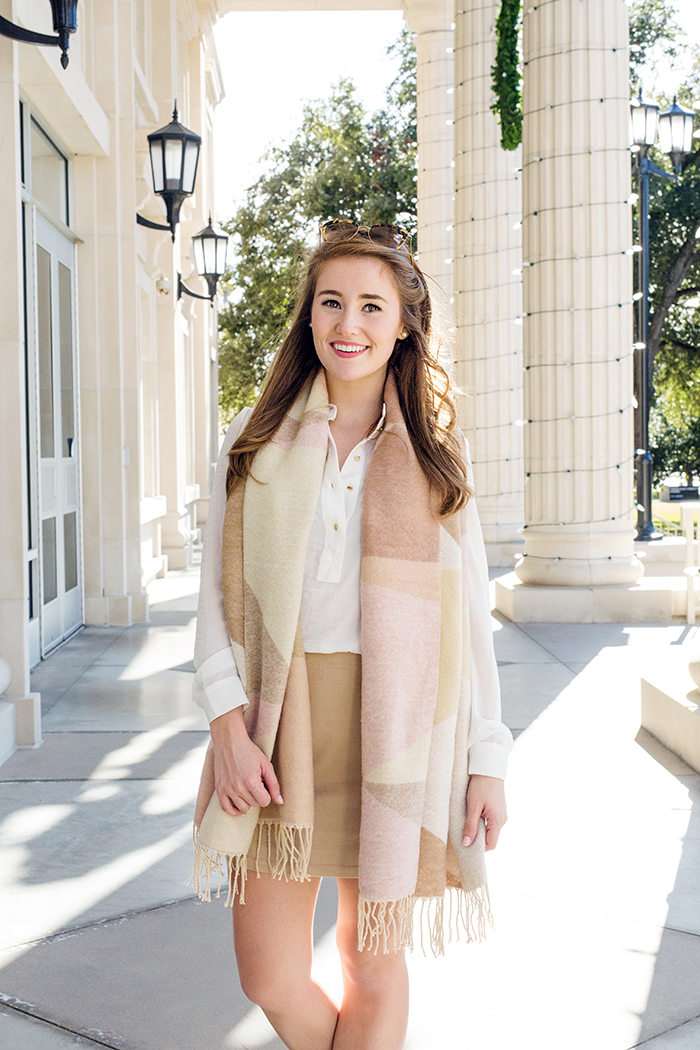 SCARF   COLOR BLOCK SCARF (under $25)   |   SKIRT   FAUX SUEDE SKIRT   |   SHOES   BLUSH BOW FLATS   |   SHIRT   WHITE BLOUSE (size up one, wearing size 4)   |   PURSE   TORY BURCH CROSSBODY (old style, similar linked)   |   SUNNIES   MIU MIU SUNGLASSES   |   EARRINGS   PEARL STUDS
That's why this scarf (that's priced right under $25) has already become a 2016 favorite. I adore each of the gorgeous shades in it – pretty blushes, soft creams and warm tans. What's not to love? Since it contains so many great, versatile hues, the options on what to wear it with are endless. Pairing it with pieces in similar colors made for a feminine, lady-like look that I know I'll end up recreating again and again. So very excited to have this scarf as an easy, light closet staple for the chilly months we still have ahead!
P.S. Four of my favorite pieces of this outfit are under $25. The scarf, skirt, shirt and shoes! Love finding pieces that don't break the bank.
Love from Texas,
Kate
Photography by Hilary Rattikin