Does anyone else feel like they lived primarily off of sugar and carbs over the past month? I love enjoying all the holiday treats and candy, but once the new year hits, I'm always ready for a reset. (And for my body to remember what a vegetable is… ya feel me?)
Andrew and I have decided to try to eat more plant-based meals and less red meat in 2020, which should be interesting considering we're basically carnivores! (Joking, but we do love our meat.) And while I'm usually pretty good about getting lots of fresh veggies and fruits into my diet, I've noticed that whenever I get busy, convenience, unfortunately, outweighs nutritional value.
When Daily Harvest reached out with an invitation to try their delivery service, I was hopeful that this would be the perfect solution to healthy eating on a busy schedule! I'm happy to report that I've been loving the convenience, healthfulness, and deliciousness of these crafted cups (don't even get me started on the smoothies) and am excited to share more today! (Psst… sharing an amazing promo code at the end of the post!)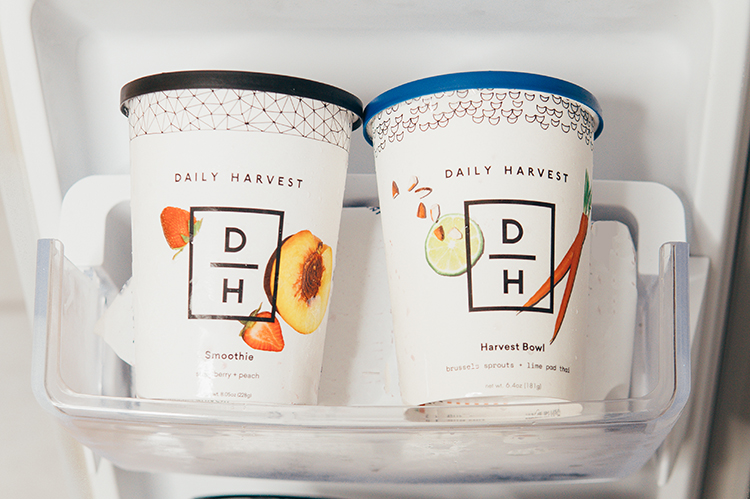 So, what exactly is Daily Harvest? A service that brings pre-proportioned cups packed with wholesome, delicious superfoods straight to your doorstep. Arguably the best part? They're designed to be ready to eat in about 5 minutes!
One of my favorite things about Daily Harvest is the variety of recipes they offer. I'm known to get in a lunch-rut after a few months of eating the same thing over and over, and Daily Harvest makes it easy to keep things interesting!
One of my favorite cups they offer? Smoothies! All you have to do is fill your cup with a liquid of your choice (I use unsweetened vanilla almond milk), throw it all in the blender, and voila. A beautiful, deliicous, healthy snack!
You'll also find harvest bowls, soups and even lattes available from Daily Harvest. I love preparing a harvest bowl, like the Brussels Sprouts + Lime Pad Thai, and combining it with a side like brown rice or salmon. A great hack for preparing a healthy meal!
When it comes down to cost, I consider what I would spend on a fast, unhealthy meal. Comparing that to a Daily Harvest cup, which varies from $6.99 to $7.75 based on what plan you select, I can't help but feel like these are an amazing value. Convenience, taste and wholesome, healthy ingredients all in one? Yes. Please!
To make things even sweeter, use my code LONESTAR for $25 off your first Daily Harvest box!
daily harvest promo code:
use code LONESTAR for $25 off your first Daily Harvest box
The older I get, the more I love sharing about food, recipes, and what I'm enjoying in the kitchen. I've loved seeing y'all enjoy this type of content over the years, as well! So I hope you're excited to hear about this healthy hack to Andrew's and my new year's resolution. These Daily Harvest cups are a new favorite, and I'm excited at the thought of how convenient they're going to make our new goal of eating more plant-based meals this year!
Is healthy eating one of your resolutions this year? I'd love to hear how you're tackling it in the comments below!
Love from the Sunshine State
Kate